Ismar Elbogen Scholarship Brings German Doctoral Students to LBI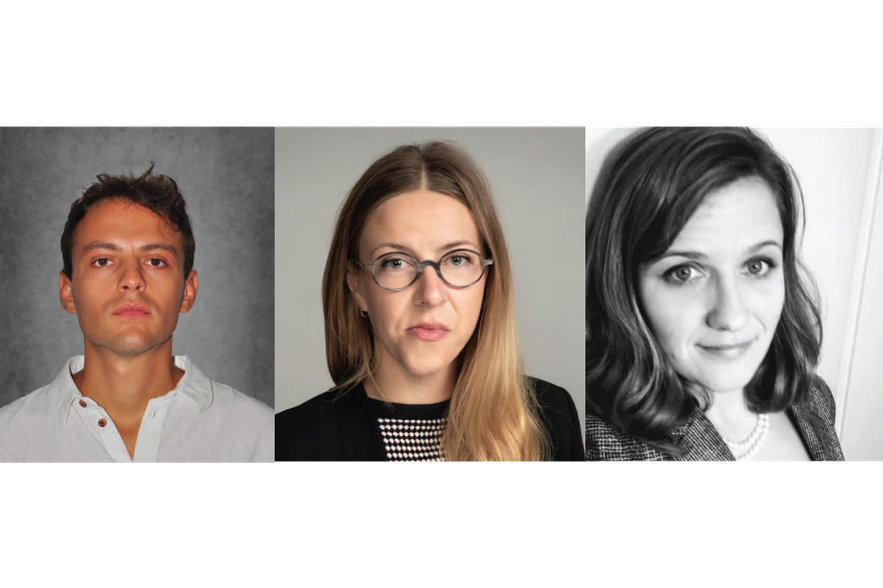 A program initiated last year by a German fund that supports Jewish university students will bring PhD candidates to New York for a period of intensive research using the collections of the Center for Jewish History and practical experience supporting LBI's projects and exhibitions.
The Ernst Ludwig Ehrlich Scholarship Fund (ELES) provides scholarships for Jewish students at German Universities across disciplines, and it convenes some of those students every year at a retreat in New York, where a visit to the LBI archives is a major part of the program. Last year, ELES unveiled the Ismar Elbogen Scholarship, which will provide support to doctoral students working on dissertations related to German-Jewish history and culture in the form of a 6–12-month research stay at the Center for Jewish History. In addition to direct access to the rich collections of LBI and the other partners of the Center for Jewish History, recipients will participate in LBI's diverse public education efforts including work on exhibitions and special projects.
The scholarship is named to honor the German-Jewish scholar and Rabbi Ismar Elbogen, who emigrated to the USA in 1938 and became one of the most influential figures in the Jewish community in New York. Elbogen was active in institutions including the Jewish Theological Seminary, the Hebrew Union College, the Jewish Institute of Religion, and Dropsie College. His most prominent publications include one of the standard works on Jewish liturgy, Der jüdische Gottesdienst in seiner geschichtlichen Entwicklung (1913) and a survey of German-Jewish history on the eve of its greatest catastrophe, Die Geschichte der Juden in Deutschland (1935).
Although the global pandemic prevented the first cohort of recipients from traveling to New York, LBI looks forward to welcoming the following recipients when conditions allow:
2020–2021
Nicola Alessio Sarracco holds a first class Master's Degree in Philosophy (magna cum laude) from the Vita-Salute San Raffaele University of Milan. He is currently working on his PhD dissertation in Jewish Studies at the Freie Universität in Berlin. In his research project entitled "Ecstatic Thinking and Political Renewal. Study on the Transmission of Ideas between Romantik and German-Jewish Culture in early 20th Century" he focuses on the influence of German Romanticism on German- Jewish intellectuals of early 20th century. To explore this issue, he will also deal with an unpublished anthology of Martin Buber dedicated to Romanticism (Romantikerbriefen, 1905).
Annette Wolf studied history and German language and literature at Bielefeld University and Humboldt University Berlin. In 2016, she completed her MA with a thesis on "Diaspora Nationalism and Autonomy Debates in the Weimar Republic." From 2016 to 2020, she was assistant to the director of the Leibniz Institute for Jewish History and Culture – Simon Dubnow. Her doctoral thesis focuses on German-Jewish literary scholars and their reception of Romanticism as a vehicle to deal with German tradition after the Holocaust. She examines the research of scholars like Käte Hamburger, Hans Mayer, Oskar Seidlin, or Richard Alewyn against the background of their experience of persecution, exile, and post-exile.
2021–2022
Hannah-Lea Wasserfuhr is a PhD Candidate at the Hochschule für Jüdische Studien (Center for Jewish Studies) in Heidelberg. She studied art history and history at the University of Heidelberg (BA), followed by a MA degree in Jewish Museology at the Hochschule für Jüdische Studien. In her MA thesis, she analyzed how museums integrate the remains of medieval synagogues into their exhibitions. She is currently working on her doctoral thesis about the industrial production and marketing of Jewish ritual objects during the Second Empire and the Weimar Republic. Few Jewish ritual objects from this period survive, and little is known about their background, production, distribution, and popularity. Hence, she links the archives of Gentile and Jewish manufacturers to known objects in private or museum collections and investigates the distribution and marketing of these consumer goods. This will provide insights into the place, representation, and (possibly) acceptance of Judaism in the context of 19th- and early 20th-century consumerism. Her research also raises questions about the consumers themselves – who bought these objects and why? Here, Wasserfuhr argues that the historicist style of the objects may reflect the consumers' approach toward Judaism or politics.
From LBI News 112