Jerry Brotman—Hands-on Volunteer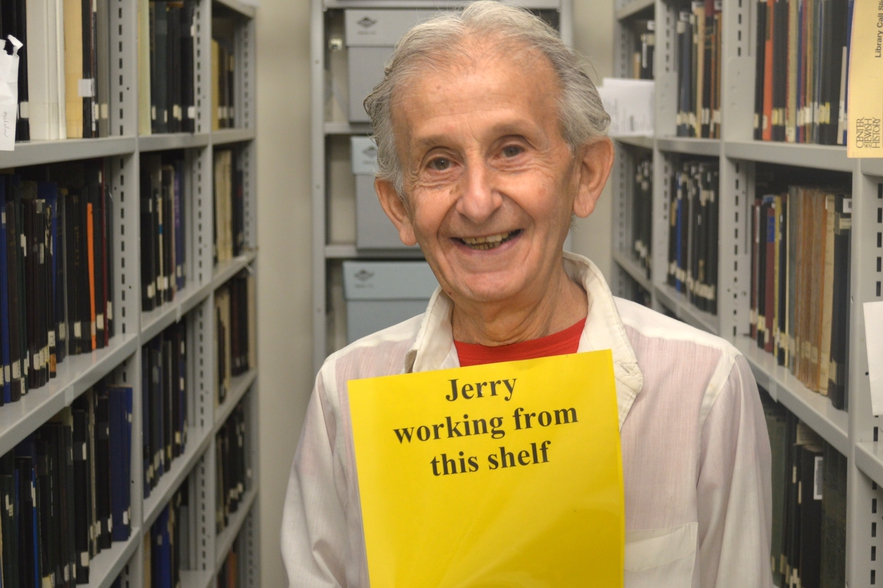 He is neither a scholar nor a librarian, but Jerry Brotman knows the LBI Library Collection more intimately than anyone else. In 2014, he claimed the singular distinction of being the only person in history to lay hands on every cataloged monograph in the Library's 80,000-volume collection. Over the past eight years, Brotman affixed barcodes to some 66,000 books, a labor as important to the functioning of a library as it is, some might say, tedious.
"I didn't find it a chore," says Brotman, who has volunteered at LBI about six hours per week since his retirement in 2006. "It was a diversion, and it broke up the week."
Not everyone shared his outlook. Initially invited to work on the barcoding because of what he calls a "Neanderthal attitude toward computers," Brotman endured where others quit. The stacks on the 12th floor of the CJH are windowless, cool, and silent—a perfect atmosphere for books, but not for volunteers looking to enjoy their retirements.
"They'd say it was too cold, too isolated, too grim," says Brotman. "So I found myself alone with this mammoth undertaking."
Curiosity intact
In 2006, Brotman retired from what he wryly calls a "mediocre career" in the financial services industry. "Somehow I escaped with my curiosity unscathed." That curiosity brought him to Yeshiva University Museum's landmark exhibit "A Perfect Fit: The Garment Industry and American Jewry" at the CJH in 2005. Brotman was moved by the way it reflected his family's history. Born in 1937 to a Jewish family in Williamsburg, Brooklyn, Brotman had two aunts and a great uncle who had been garment workers. He remembered his mother's stories about the working conditions in the factories and the workers' struggle to organize. Renate Evers, Director of the LBI Library, is grateful Brotman discovered the CJH that day and volunteered his services after his retirement the next year. Barcoding is a task that demands physical fitness and the ability to read and understand bibliographic descriptions. "It's very hard to find someone with the required diligence, meticulousness, and patience, and we are lucky that we did in Jerry," says Evers. She estimates that hiring a commercial vendor to barcode the collection could have entailed a six-figure price tag.
Instantaneous connection
Although not all non-circulating special collections libraries use barcodes, Evers says that having them makes an enormous impact on the efficiency of virtually all library tasks. "They provide an instantaneous connection between the bibliographic metadata and the physical item," says Evers. Without barcodes, a book can only be located and identified by comparing the title, author, edition, publisher, and other information in the catalog to the physical book. Barcodes are also an absolute prerequisite for offsite storage, which Evers calls a "worst-case scenario" but also an essential consideration for the curator of any growing collection. The knowledge that it was a valuable task helped keep Brotman going. "I also felt like I was helping someone. I always took it seriously. It's not a task that someone would have thought up just to keep me busy." Thanks to his familiarity with the entire library collection, it is likely Brotman will be busy at LBI for some time to come. "In a way, I'm jealous of him," says Evers, "He has a feel for the collection like no one else."