Leo Baeck Medal for Anselm Kiefer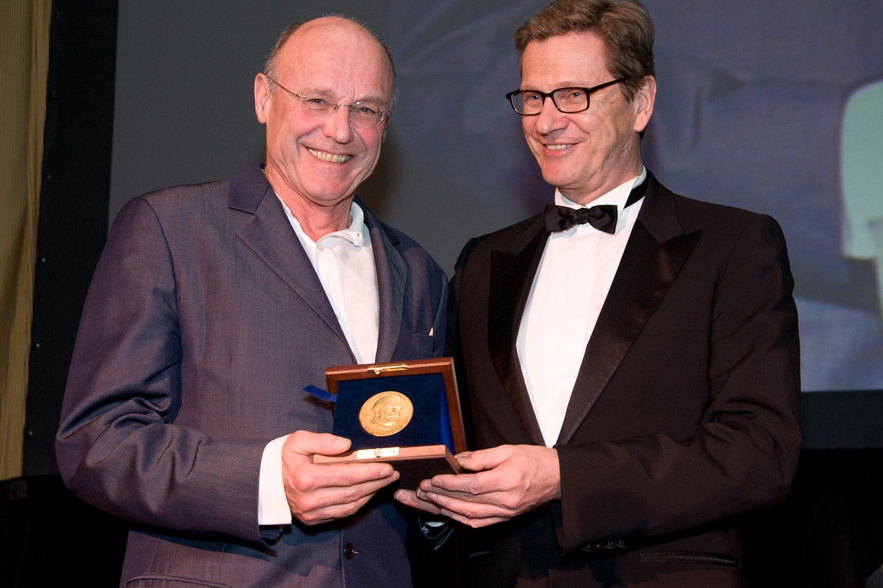 Author

Date

Tue, Dec 13, 2011
On December 12, 2011, German Foreign Minister Guido Westerwelle awarded the Leo Baeck Medal to German Artist Anselm Kiefer during the annual Leo Baeck Institute Gala Award Dinner at the Waldorf≈Astoria in New York.
The Leo Baeck medal is presented annually to an outstanding individual whose work in the cultural, political or social realm reflects the ideals of tolerance and respect for human dignity embodied by Rabbi Leo Baeck.
In his address, Westerwelle lauded Kiefer's confrontation with Germany's past in his art: "Germany as a country found hope in Anselm Kiefer's work. Kiefer's preoccupation with German and Jewish culture and the Holocaust has helped us to better address our Nazi past. It is partly because of Anselm Kiefer's relentless dialogue with the past that Germany eventually found its way to an unambiguous confrontation with National Socialism."
Richard Armstrong, Executive Director of the Guggenheim Museum and Foundation appraised Kiefer as one of the "leading artists of his generation." "In Anselm Kiefer we see a courageous and strong fellow struggler whose art distinguishes our historical epoch," said Armstsrong.
In his acceptance speech, Kiefer said his work was an attempt "to reunify the two spirits of the German land, the spirit of the Jews and the spirit of the Germans. " "What we lost completely in the first half of the 20th Century was so important for German culture. The Germans lost half of themselves," Kiefer said.
Born in 1945 in Donaueschingen, Germany, at the close of World War II, Anselm Kiefer studied art informally under Joseph Beuys at the Düsseldorf Academy in the early 1970s.
Kiefer reflects upon and critiques the myths and chauvinism which eventually propelled the German Third Reich to power. His paintings depict his generation's ambivalence toward the grandiose impulse of German nationalism and its impact on history. Kiefer's work consistently balances the dual purposes of visually powerful imagery and intellectually critical analysis.
His work has been shown in and collected by major museums throughout the world. Recent retrospective exhibitions include the Modern Art Museum, Fort Worth (2005) (traveling to the Musée d'art contemporain de Montréal, the Hirshhorn Museum and Sculpture Garden, Washington, D.C., and SF MOMA). In 2007, the Guggenheim Museum Bilbao presented an extensive survey of recent work and Kiefer was commissioned to create a huge site-specific installation of sculptures and paintings for the inaugural "Monumenta" at the Grand Palais, Paris. In 2007, he became the first living artist to create a permanent installation at the Louvre since Georges Braque in 1953. In 2009, he directed and designed the sets for Am Anfang (In the Beginning) at the Opéra National in Paris.