Leo Baeck Medal for Josef Joffe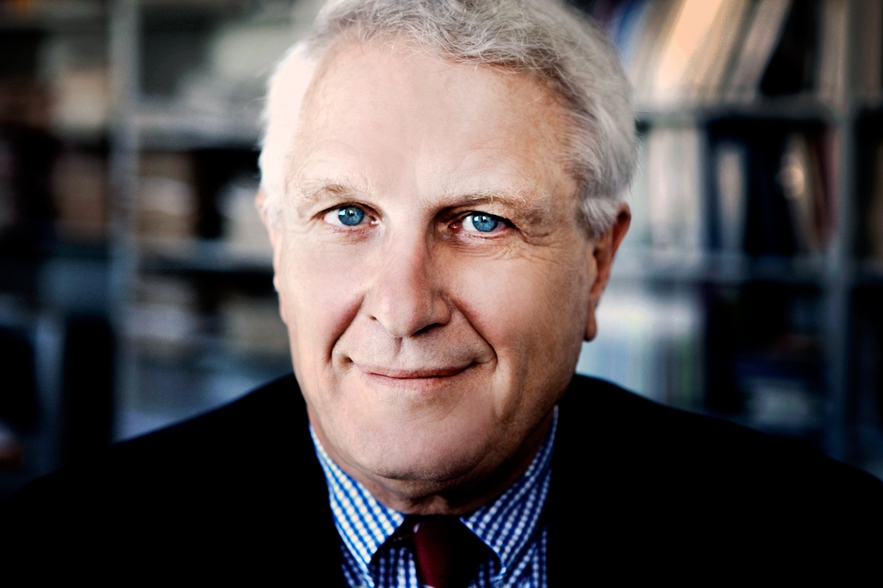 Author

Eva Schweitzer

Date

Thu, Dec 4, 2014
"Germans and Jews can enrich one another. They can unite their best qualities," said LBI President Dr. Ronald Sobel at the Annual Award Dinner of the Leo Baeck Institute on Wednesday, December 3, 2014 at the Center for Jewish History in New York. He was there to present Dr. Josef Joffe, the publisher of the German Weekly newspaper Die Zeit, with the Leo Baeck Medal. Dr. Joffe, who had traveled to New York to accept the honor, thanked Dr. Sobel and the LBI with emotion in his voice.
Former Secretary of State Dr. Henry Kissinger gave a stirring laudatio for Joffe before the award presentation. The statesman pointed out the many parallels between his own life story and Dr. Joffe's; like Kissinger, Joffe was educated in Germany as well as the United States, and both men have made a career in the realm of international politics—Kissinger as an American diplomat and Joffe as a German journalist.
However, Dr. Kissinger did point out one remarkable way in which Dr. Joffe's life was different from his own: "My birth was less complicated." Joffe was born in a bunker in Lodz after his family escaped the Vilna ghetto. When a midwife was sought in a neighboring bunker to attend to Joffe's mother, the bunker's residents were found unconscious due to a medication they had taken and they were rescued. "On his first day in this world, he saved a lot of lives," quipped Kissinger.
After Kissinger's introduction, Dr. Joffe gave the 57th Annual Leo Baeck Memorial Lecture, entitled The Golden Age of German- Jewish History, 1871 – 1933: Remake or Mission Impossible? He spoke of a golden age for German Jews that began with the unification of Germany under Bismarck and was brutally ended by the rise of the Nazis just six decades later. Joffe posed the question whether this success story could be repeated today in a Germany which is home to the greatest number Jews in Europe after France and the United Kingdom.
Thanks to immigration from the former Soviet Union and Israel, Jews in Germany number 100,000 officially, and many more Jews go uncounted because they are not affiliated with a Jewish community. The prospects for another golden age, however, are dampened somewhat by the advanced age of the new immigrants, according to Joffe. Young Jews are seeking opportunities elsewhere: London, New York, or Silicon Valley.
Drawing on Yuri Slezkine's description of Jews as the quintessential "Mercurian" community—"urban, mobile, literate, articulate, and occupationally flexible"—Joffe posited that those young Jews best poised to launch another golden age may also be the most likely to leave Germany.
Jews have always had to understand the cultures in which they live better than their hosts in order to overcome hostilities, said Joffe. His own parents had hired a tutor for him when he was four years old, which allowed him to look and speak like a native Berliner. Nevertheless, Joffe said he lived with "one foot planted in the old world and one in the new." He recalled how a teacher rebuked him with a slap for refusing to join in morning prayers at school. "You can pray too, you know; it's the same God," the teacher said.
In 1961, Joffe went to school in the United States and later attended university there. He drew parallels between the United States in the 20TH century and Germany during the decades between Bismarck and the Nazis: "In a nation on the rise, the future beats the past, while talent and ambition dwarf faith and ancestry." Joffe said that the separation of church and state in the United States was more conducive to Jewish success and argued that the "values of Puritanism—hard work, deferred gratification, earthly success, Jerusalem on earth and not in heaven—dovetailed nicely with the Jewish spirit." He also cited the "expanding European welfare state" as a brake on initiative.
"Mercurians," said Joffe, "have flourished best in a setting where they were both in and out, unwelcome for who they were, but wanted for what they had." Kissinger echoed Joffe's praise of the United States. During the turmoil of the 1960s, Kissinger said, he and his fellow refugees took a different view from many of their American colleagues. "We did not question that some things were not done in the ideal way, but we knew what America meant to the world throughout our lives." Kissinger continued, "And so Joe in his life, and in his essays and in his articles, has never lost sight of the fact of who the essential guarantor of freedom in the world has been."
Eva Schweitzer is a correspondent for German newspapers covering New York City. She operates Berlinica Publishing, which specializes in bringing books about Berlin to the United States.