Leo Baeck Medal for Margarethe von Trotta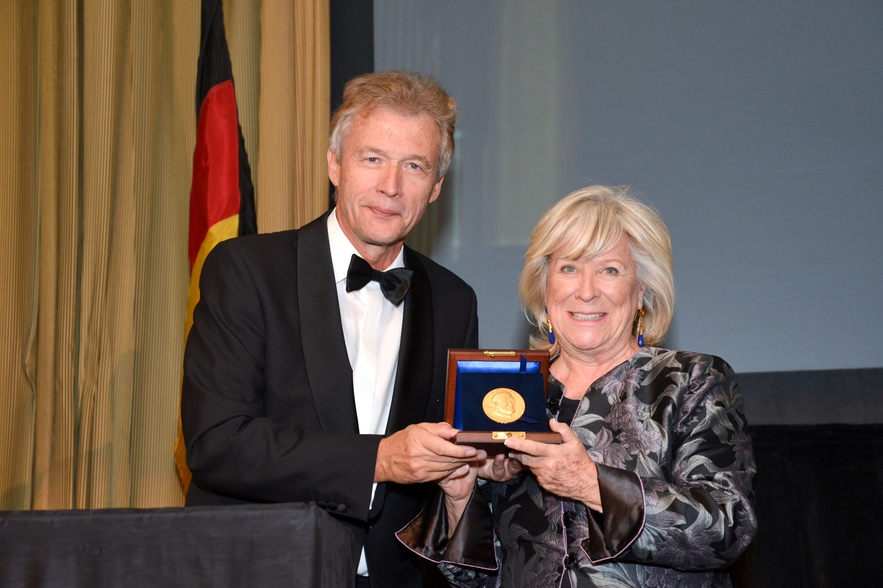 Author

Date

Thu, Nov 29, 2012
On November 28, 2012, German Ambassador Peter Ammon awarded the Leo Baeck Medal to German filmmaker Margarethe von Trotta during the annual Leo Baeck Institute Gala Award Dinner at the Waldorf≈Astoria in New York.
The Leo Baeck medal is presented annually to an outstanding individual whose work in the cultural, political or social realm reflects the ideals of tolerance and respect for human dignity embodied by Rabbi Leo Baeck and the German-Jewish culture he represented.
In his address, Ammon called von Trotta one of "Germany's best film directors of our time" and lauded her willingness to tackle uncomfortable issues in her films. "You never never shy away from going right to the heart of society's most controversial debates," said the Ambassador.
Ammon cited Trotta's films such as Rosa Luxemburg (1986) and Marianne and Juliane (1981) and Hannah Arendt (2012) as critical explorations of Germany's tumultuous twentieth century that spurred reckoning and dialog. "You never give easy answers, but you made us see more clearly that, in an uncertain world, we need tolerance and respect, paired with firm judgment and the will to continue the struggle," he said.
Born 1942 in Berlin, von Trotta began acting in German films in the early 1960's and achieved her breakthrough as a director with The Lost Honor of Katharina Blum, which she co-wrote and co-directed with Volker Schlöndorf based on the Heinrich Boll novel of the same name in 1975. Her subsequent films often focused on pivotal moments in German history through the experience of women that shaped them, such as the early 20th century socialist activist Rosa Luxemburg, the 12th century mystic Hildegaard von Bingen, and the non-Jewish wives of imprisoned Jews who agitated for their husbands' release from a Nazi prison on Rosenstrasse in 1943.
Her most recent film, a biographical portrait of the German-Jewish philosopher Hannah Arendt, sits firmly in this tradition. The film focuses on Arendt's experience covering the war crimes trial of Adolf Eichmann in Jerusalem between 1960 and 1964. Her writings about the trial resulted in the book Eichmann in Jerusalem and a storm of controversy in which many, including Arendt's closest friends and colleagues, criticized her harshly for what they saw as a portrait that trivialized Eichmann's crimes and blamed the victims for their suffering.
Von Trotta expressed admiration for Arendt's fearlessness and intellectual curiosity: "Arendt's motto – as she never tired of repeating – was: 'I want to understand.' That's also my aim in making films. And just like her, I continue to hold on to the hope that she affirms in her final speech in the film: 'It is the ability to think that gives us the strength to avoid catastrophes in the rare moments when the chips are down.' "