Leo Baeck Medal for Peter Wittig and Huberta von Voss-Wittig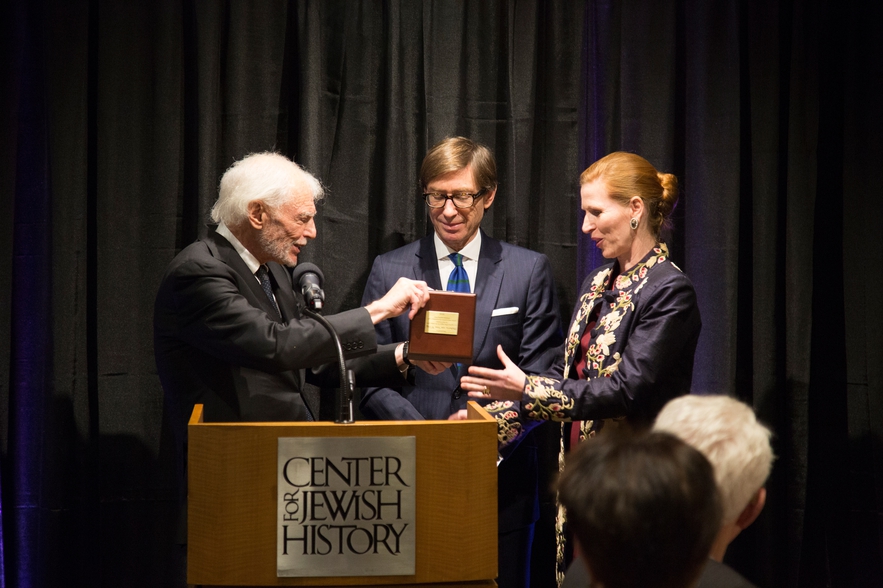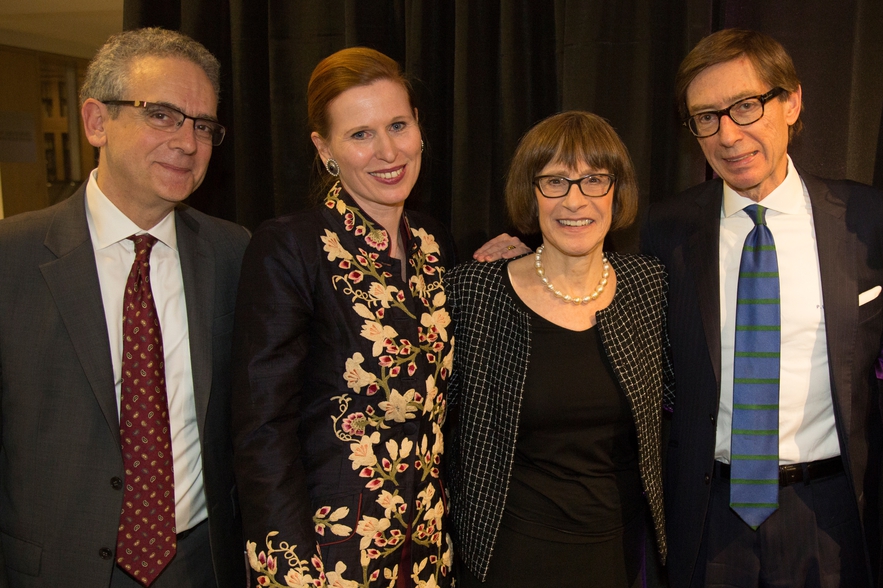 Author

Date

Thu, Dec 6, 2018
LBI was honored to present Peter Wittig and Ms. Huberta von Voss-Wittig with the Leo Baeck Medal at the Center for Jewish History on December 5, 2018. To mark the importance of this event their close friend, Sara J. Bloomfield, Director of the United States Holocaust Memorial Museum, joined with LBI President Ronald B. Sobel to present the prestigious award to the couple.
LBI Executive Director William H. Weitzer recognized a number of prominent officials from Germany who attended including, from the German Bundestag: Ulla Schmidt, Dagmar Freitag, and Jürgen Trittin as well as NY's German Consul General David Gill and his wife Sheila Shrivastava. In addition, NY's Austrian Consul General Helmut Böck and his wife were present.
Peter Wittig served as the German Ambassador to the United States from 2014 until 2018. Previously, he served as Germany's Permanent Representative to the United Nations. He joined the German Foreign Service in 1982 and served in several high-level roles including German Ambassador to Lebanon and Cyprus. He currently serves his country as Ambassador to the United Kingdom.
Huberta von Voss-Wittig is a noted German journalist, human rights advocate, and author. She started her career as a political correspondent in the early 1990s, eventually serving as spokesperson for German Bundestag President Rita Süssmuth. Most recently, she served as Director of Communications for Seeds of Peace, a New York-based organization that works with young leaders from conflict regions around the globe.
Wittig noted that 2018 was a very special year in which to receive the medal. "We commemorate the 80th anniversary of the November Pogroms. On November 9, 1938, all the pillars of tolerance, civilization and rule of law crumbled and shattered into pieces." The Ambassador wondered, "why were there so few German citizens, neighbors, religious communities, let alone police authorities, to speak out, to act, to intervene? It was a question that occupied me as a young man, as so many others of my generation. It is why I chose to study history and political science at the University. And this question still haunts so many of us today."
Wittig continued: "Remembering and confronting our past is key to its civil and political soul [...] and must remain at the heart of Germany's future. I believe, we as diplomats can and should make a significant contribution to this task. But whoever thought that what happened 80 years ago lies in the distant past and belongs to bookshelves and museums has had a rude awakening recently. Populism, aggressive nationalism, and antisemitism are on the rise; racism, social exclusion, and violence are creeping back into our societies."
The Ambassador concluded: "The LBI has rendered an invaluable service to Germany. It has helped to preserve and to nourish the legacy of 500 years of German-Jewish life. It reminds us of the cultural wealth we once had. I commend the LBI, its staff, its leadership, and its supporters for their outstanding contribution. It is a tremendous gift to Germany that we will cherish and hold dear."
Huberta von Voss-Wittig observed that here at LBI "we can touch and read the desperate letters of those who were hoping to escape. Here, we can marvel at the art of those who were once integrated or look at the mundane objects of those whose lives were up-ended time and again. I had the chance to write about the LBI early on in our stay in the United States and feel indebted to the valuable educational opportunities they offer to all of us."