Leo Baeck Medal for Stuart Eizenstat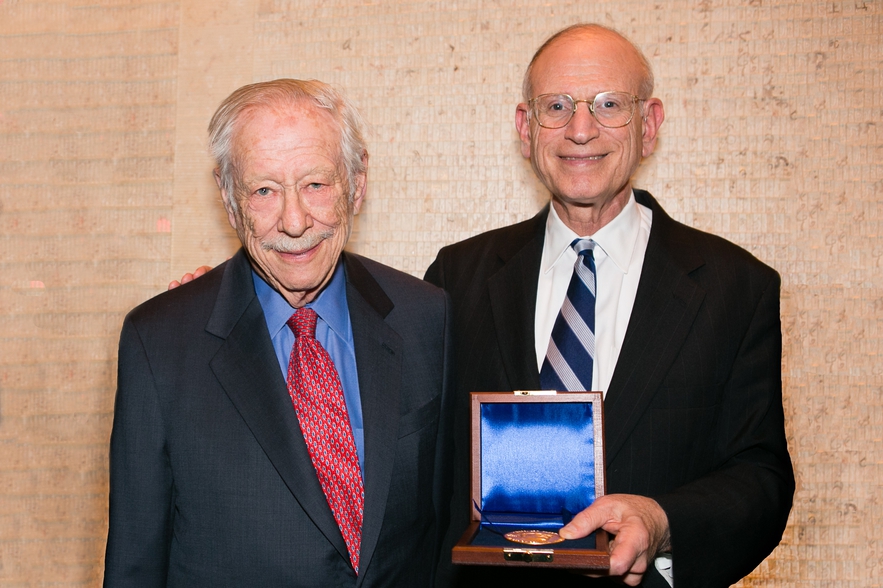 Author

Date

Wed, Jan 15, 2014
In recognition of his long career in public service and his effective advocacy for the rights of Holocaust victims, Leo Baeck Institute honored Ambassador Stuart E. Eizenstat with the Leo Baeck Medal during its annual award dinner at the Center for Jewish History in Manhattan on Tuesday, January 14, 2014.
Before accepting the award, Eizenstat gave the 56th Leo Baeck Memorial lecture titled "The Future of the Jews," addressing the imperative to honor the victims of the Holocaust by preserving Jewish continuity. He said he was proud to receive the honor from Leo Baeck Institute. "The Leo Baeck Institute is more important than ever as we face new 21st century challenges," Eizenstat said, "As LBI grows stronger, so too shall the Jewish world."
As Special Representative of the President and Secretary of State on Holocaust-Era Issues during the Clinton Administration, Ambassador Eizenstat negotiated agreements with Switzerland, Germany, Austria, France, and other European countries covering restitution of property, compensation for slavery, recovery of looted art and bank accounts, and payment of insurance policies for Holocaust victims. Eizenstat has also been an important proponent of Holocaust commemoration and education. As an advisor to President Jimmy Carter, he proposed a presidential commission on the creation of a permanent memorial to the victims of the Holocaust in 1978, which culminated in the establishment of the United States Holocaust Memorial Museum 14 years later. He currently serves as the Special Advisor to Secretary of State John Kerry on Holocaust-Era Issues and is Senior Counsel at the Washington, DC law firm of Covington and Burling.
W. Michael Blumenthal, former Secretary of the Treasury and current Director of the Jewish Museum Berlin, presented the medal to Ambassador Eizenstadt. Recalling their tenures together as appointees in the Carter administration, Blumenthal praised Eizenstat for his long record of public service in the US government, where he got to know him as a "tough negotiator, but always a real mensch."
Blumenthal continued, "In the struggle for justice for Shoah victims, Stuart's leadership of successful negotiations for landmark agreements with the German government to establish a multibillion dollar compensation fund for former slave laborers, and another to provide the resources for assisting destitute Shoah survivors, stands out as one of his most important achievements."
Blumenthal said he had seen first-hand how those agreements benefit survivors, relating that he had recently been contacted on behalf of former acquaintances from the Shanghai ghetto. "Both husband and wife are in their 90's now, alone, without family, largely destitute, in poor health, and in urgent need of help," he said. "Did I know of anything that might be done for them? I was asked."
"Well, because of you, Stu, I did. I put a call in to representatives of the Claims Conference in Frankfurt […]. Just the other day, they were informed that a small monthly stipend, quite modest, but of great importance to keeping them afloat, will be coming their way," Blumenthal said.