Art: Lotka Burešová and her Terezín Friends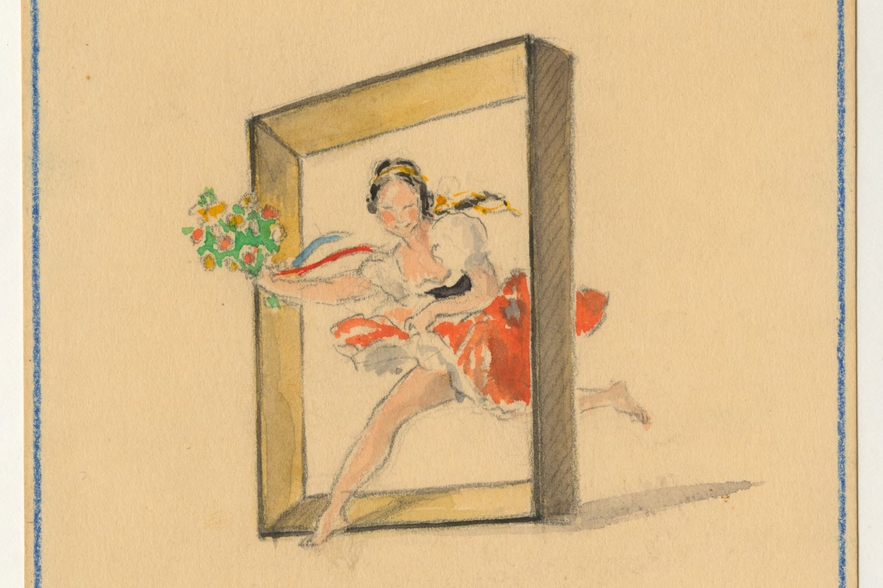 Author

Anna Hájková

Date

Thu, Mar 13, 2014
Anna Hájková, a scholar of the Theresienstadt Ghetto, describes how the discovery of a small watercolor painted there in 1944 led to insights into the cultural dynamics of the ghetto's transnational enforced community.
One beautiful day in early April 2010, Reference Archivist Michael Simonson suggested I take a look into the LBI art collection for artwork from Terezín. After hours spent searching through boxes of artworks from the Theresienstadt Ghetto in LBI Archives, I was beginning to lose focus. I had seen countless still-lives and depictions of the peculiar, eerie classicist architecture of Theresienstadt. And then, as I opened one more folder, a vivacious young woman in an exuberant watercolor leapt out at me. Klid, rozvahu – z hluboka dýchat! exhorts the inscription ("Calm and prudence—breathe deeply!"), quite on the contrary to the emotions the figure raises in the viewer. Perhaps the inscription referred to the impending liberation, but the date, December 2, 1944, was just a month after the heart-breaking liquidation transports. Rather than the caption, though, it is the female figure jumping through a frame—to what? hope? the new year? spring?—that holds our attention. The beauty and vitality of the leaping figure, dressed in the Czech national costume, may come as a surprise in the particular context of Theresienstadt. This drawing by Lotka Burešová, a Czech-Jewish painter, offers some clues leading to some of the key aspects of its enforced community.
To understand these, we first have to take a closer look at the social structure of the ghetto. Theresienstadt (in Czech Terezín), rather than a world apart, was very much a part of the surrounding world. The Jewish inmates deported to this Central European ghetto brought with them a part of the place they had considered home: The Czech, German, Austrian, Dutch, Danish, Slovak, and Hungarian Jews each brought their own culture and aesthetics, humor and cooking, courtship rituals and songs. Terezín was an eminently transnational place, and like any other society, especially an enforced one, it engendered differences as well as affinities. Many among the Czech Jews, constituted the social and the political elite of the prisoner community; the Czechs had been the first to arrive there and were considered veterans. Most of the Czech Jews experienced the ghetto among their countrymen, and many viewed the elderly German and Austrian newcomers (Theresienstadt served as an Altersghetto for Jews from Germany and Austria over the age of 65, and hence overwhelming majority of the German and Austrian deportees were old) as an irritating old presence.[1]
Lotka (Charlota, Charlotte) Burešová both embodied and confounded these patterns.[2] Born 1904 in Prague as the only child of the German-speaking tailor Gustav Kompert and his wife Steffi, she studied at the Prague Academy of Arts and married Radim Bureš, a gentile lawyer.[3] Their son, also named Radim, was born in 1927. After the Nazi occupation of the Western part of Czechoslovakia, the couple divorced, presumably to protect the family's property. Theirs was one of the many false divorces of the time in the Protectorate. By 1930, Bohemia had the world's highest rate of intermarriage.[4] During the Nazi occupation, it was common for Czech-Jewish couples (quite unlike Germany) to separate legally but continue to live together, hoping to alleviate the burden for their children and non-Jewish spouses, believing the occupation would be over soon. This story was usually told by the surviving children; the Jewish parent usually did not come back, raising the question who divorced whom, and if the gentile partners should have not been more steadfast. Once the Nazis started deporting Czech Jews in October 1941, the divorced spouses, no longer protected, were sent to Terezín and from this transit ghetto to their deaths.
Like other divorced spouses, Burešová was deported to Terezín alone, without her family; her parents had died in the 1930s. Two of her maternal aunts died in Terezín, as did her seven-year old niece Zuzana Neuwirthová in February 1943 of the then rampant typhus. Burešová first worked in the lautscharna, a workshop that produced greeting cards for sale outside the ghetto. Soon the word spread that she was an academically trained painter, and she got a job in the "special workshops," where she worked with other painters, producing oil paintings for sale, sometimes copying old masters from the Dresden gallery from postcards. She painted portraits of the Jewish Council of Elders, but also of Karl Rahm, the third and last SS commandant. This portrait eventually saved Burešová's life when in fall 1944 nearly everyone was deported to Auschwitz, but the SS excluded her.[5]
In Terezín, Burešová also drew for her fellow prisoners, Czech, German, Danish, and Dutch. The Yad Vashem archives show a drawing of Clarence, the little boy of the young Dutch dancer Catharina Frank. We do not know whether, like many of her colleagues, Lotka bartered her paintings in exchange for food, and we also do not know whether her divorced husband provided her with food through parcels or illegally through the gendarmes; we know they kept in touch.[6] We do know that drawing was a favorite in pastime in Terezín. Paper and pencils were scarce, but drawing offered a constructive pastime, an opportunity for reflection, and a means to document the surroundings. Bourgeois pursuits like drawing, keeping diaries, and writing and reciting poetry were some of the ways in which inmates maintained continuity with their former lives and made sense of the new, terrifying surrounding of Terezín, as Christiane Hess, a scholar of prisoners' drawings in concentration camps, has shown.
Different as the subjects of Burešová's drawings were, all of her artwork has the same striking aesthetics: sweet without being sentimental, focused on the humane, always concrete, never abstract. Burešová drew the picture at hand for the 46th birthday of Franz Feigl of Prague; in Terezín he worked as a picture framer. The figure wears a simplified Czech national costume, the ribbons on the flowers are the Czech national colors of red, blue, and white. The woman is beautiful but also very corporeal; her skin has a "healthy" color. She smiles as she jumps, and is also nearly nude, exposing arms, cleavage, and one long, stretched leg. In fact, there is nothing remotely calm or prudent about the girl. All you want to do is to take her pretty elbow and jump with her through that frame.
Many of these features reflected the way that the older, German prisoners in Terezín perceived the young Czech Jews. The Berliner Otto Bernstein recalled the Czechs in similar terms in a 1947 letter: "A beautiful race. Splendid boys—well-built young women. A pasture for the eyes. The Slavic type was prevalent; assimilation in Czechoslovakia seems to be far advanced."[7]
Interestingly, to the Czech viewer (I have shown the drawing to many friends both in the Czech Republic and elsewhere), the figure is beautiful rather than naked: it is her nakedness that signifies her beauty. Our understanding of beauty is culturally rooted, and Burešová's drawing points us toward a salient value in Czech self-perception and aesthetics: to the Czech viewer, the figure is beautiful because she is corporeal, daring, and very much present. The belonging in the picture, its Czechness, was emotionally coded; to this end, Burešová used a female figure, gendered in her beauty and nakedness. The drawing, having wandered with Feigl after the war from Czechoslovakia to the United States, lying among the other Theresienstadt drawing made by Lotka's older, German fellow inmates,[8] is a reminder of the transnational enforced community the ghetto was.
And Lotka Burešová? She survived, her husband picked her up in Terezín couple of days before the liberation on May 9, 1945, and they soon married again. Burešová lived in Prague until 1983 and, like so many interesting and important women survivors, never wrote a memoir. "I am just not able to write something useful. It would be better if we could chat and I would tell you what you would like to hear, what is interesting for you," she answered the prodding of a fellow survivor, Jiří Lauscher.[9] Her son Radim became a pediatrician, and her daughter in law, Dagmar, is also an attorney. In fact, Dagmar Burešová represented the family of Jan Palach against the Communist defamation of his self-immolation in the early years of the normalization, and after 1989 served as a minister of justice. Recently, Agnieszka Holland directed the TV series Burning Bush about Dagmar Burešová's courageous work.
When we think about the Czech 20th century, Prague Spring, its violent crushing, and the non-violent protest of the likes of Jan Palach are the first topics that come to people's minds. But perhaps a much more principal moment of Czechness, connected to many other cultures, happened in the Theresienstadt ghetto, and all that remains of it today is a little watercolor in the LBI archives.
ONLINE
Franz Feigl Collection, AR 5269
lbi.org/franz-feigl
LITERATURE
Hájková, Anna. "To Terezín and Back: Czech Jews and their Bonds of Belonging between Theresienstadt and Postwar Czechoslovakia," Dapim (March 2014): 38-55.
Makarova, Elena, Terezin: Krepost a bezdnoj, vol. 4. Jerusalem: Gesharim, 2007. 32–22, 441.
Rosenberg, Pnina, Charlotte Burešová (1904 – 1983), www.holocaust-education.net.
REFERENCES
[1] Interview of Hanna Pravda, BL/Sound Archive, C410, 35. On a similar note, Helga Weissová-Hošková, Zeichne, Was Du Siehst (Göttingen: Wallstein, 2001): 72f.
[2] See notes from Burešová's interview in 1972, APT, 4552.
[3] On Burešová's biography, see Elena Makarova, Terezin: Krepost a bezdnoj, vol. 4 (Jerusalem: Gesharim, 2007); Pnina Rosenberg, "Charlotte Buresova," Learning about the Holocaust through Art, http://holocaust-education.net/explore.asp?langid=1&submenu=200&id=8 (January 26, 2014).
[4] Franz Friedmann, Einige Zahlen über die tschechoslovakischen Juden: Ein Beitrag zur Soziologie der Judenheit. Prague: Barissia, 1933.
[5] Interview of Lilly Fischl, July 17, 1990, BL/Sound Archive, C410, 095.
[6] Burešová was sending letters of her colleague and fellow divorcée Jana Podlipská to her former gentile husband. Interview Podlipská, APT, 4496.
[7] Letter of Otto Bernstein to his friends, WL, 1035.
[8] Feigl's collection, AR 5269 in LBI archives, is a rich repository of documents on ghetto life.
[9] Burešová to Lauscher, March 19, 1981, BTA, 11c.
Anna Hájková is Assistant Professor of Modern European Continental History at the University of Warwick. She used the LBI archives for her doctoral dissertation about the Terezín ghetto between March and May 2010.