Leo Baeck Medal for Max Warburg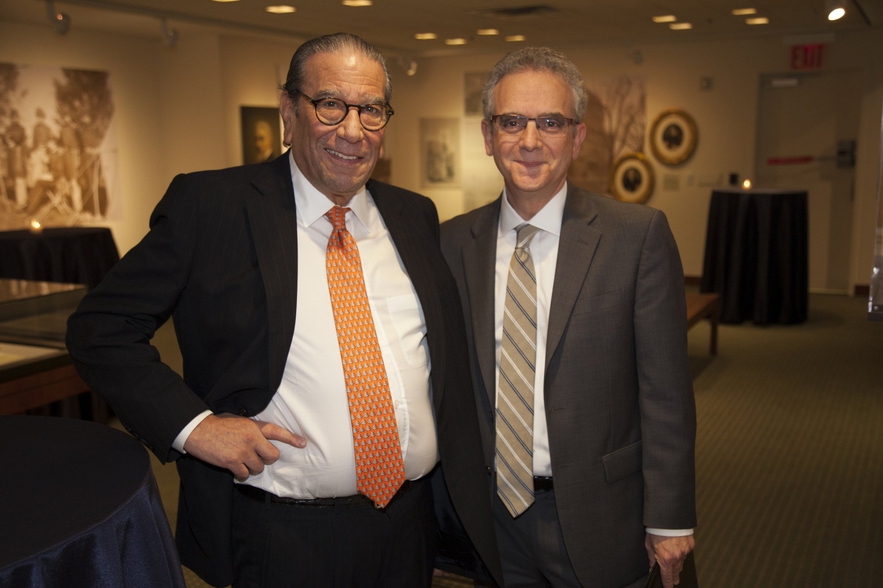 Leo Baeck Institute – New York | Berlin honored the Hamburg banker Max Warburg with the 2017 Leo Baeck Medal in a ceremony at the Center for Jewish History in New York on November 15, 2017. LBI President Dr. Ronald B. Sobel lauded Warburg's engagement on behalf of Jewish institutions such as the Israelite Hospital in Hamburg as well as his work to preserve German-Jewish history through the creation of the Warburg Archive Foundation.
"It is a special honor to accept this medal in New York, the city of my birth," said Warburg in his remarks. "I view this honor not just as a recognition of my own engagement, but also that of my relatives and ancestors." The Warburg family, especially Max's grandfather, Max Sr., and his close associates, were at the forefront of Jewish self-help efforts during the National Socialist regime and helped tens of thousands of Jews to flee Germany.
Warburg also spoke of his family's relationship to Leo Baeck, the namesake of the LBI and an important leader of German Jewry.
"Leo Baeck and the Warburg family were closely connected for decades," he said. "My father, Eric Warburg, helped Leo Baeck emigrate to Great Britain after he miraculously survived the horror of Theresienstadt."
Warburg continued: "70 years after the end of the Second World War, my family and the banking firm M.M. Warburg & Co. once again have a firm place at home in Germany. Both the engagement of my ancestors on behalf of German-Jewish culture and the return of my father to Germany after the National Socialist dictatorship took courage, and in hindsight they were the right choices." Leo Baeck himself, said Warbug, "saw it as a deeply human and important mission" to reestablish old traditions in their rightful home.
The Leo Baeck Medal
The Leo Baeck Institute – New York | Berlin is committed to the preservation of German-speaking Jewish history and culture and has honored individuals for their contributions to this mission with the Leo Baeck Medal since 1978. Previous recipients include Chancellor Angela Merkel, former German Federal Foreign Minister Joschka Fischer, former German Federal Presidents Johannes Rau and Joachim Gauck, and the historians Fritz Stern and George L. Mosse.
The Warburg Archive Foundation
Since 2006, the Warburg Archive has become one of the leading private collections related to German-Jewish history. The archive encompasses documents from the 17th century through the present with a focus on the 19th and 20th centuries. The core of the collection comprises the files of the Warburg Bank and several personal archival collections. Among the special holdings are the "Emigration Archive", which contains documentation of tens of thousands of Jewish emigrants who fled Nazi Germany with the aid of the Warburg Bank.