News from the Family Research Department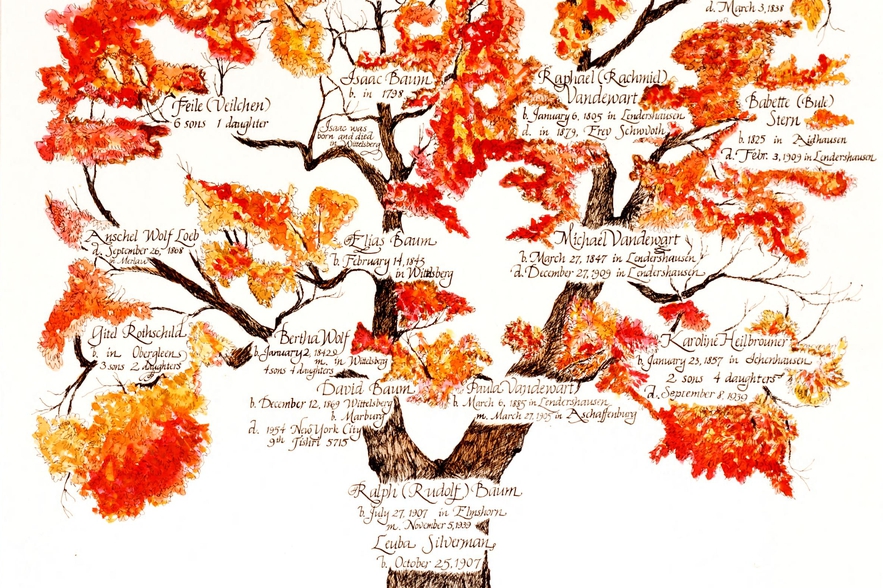 Family Tree Index
At the annual conference of the International Association of Jewish Genealogical Societies (IAJGS) held in Cleveland, Ohio from July 28–August 2, 2019, LBI announced a new tool to provide improved access to our large collection of Family Trees. Karen S. Franklin, LBI's Director of Family Research, and JewishGen Research Coordinator for Germany, Alex Calzareth, discussed the new resource at a luncheon for JewishGen's German-Jewish Special Interest Group (GerSIG).
The Leo Baeck Institute Family Tree Index unlocks basic information held within dozens of family trees from LBI collections, including names, dates, and places of birth and death, which were not previously available in an electronic format. The family trees that appear in the database, including ones from the Rudolf Jakob Simonis and Marc Family collections, among others, represent families not found in online data at Ancestry.com or in the Geni World Family Tree. Each entry also includes a link to the original family tree and a page reference so researchers can further explore the family trees held by LBI.
Focusing on older trees from the collection, many of which were compiled in the late nineteenth and early twentieth centuries, the entries contain valuable information that allows researchers to map relocations and movement of families in Europe and throughout the world. The index was compiled by Lars Menk, a researcher in Berlin who was able to decipher and translate the complex tree notations. The index is searchable from JewishGen's unified search or within the German databases. Franklin and Calzareth coordinated the project. The project was funded by supporters of GerSIG.
Find the Leo Baeck Institute Family Tree Index
https://www.jewishgen.org/new/lbi-family-tree-index/
Lifetime Achievement Award for Karen Franklin
At the same conference, Karen Franklin received the prestigious Lifetime Achievement Award from the International Association of Jewish Genealogical Societies (IAJGS). The award was presented in recognition of Franklin's, "unselfish and dedicated commitment in pursuit of advancing Jewish genealogical research."
Franklin has been director of Family Research at LBI for over twenty years and a leader in the fields of genealogy and museums for many more. She has served as president of IAJGS, chair of the Council of American Jewish Museums, chair of the Memorial Museums Committee of the International Council of Museums, and as co-chair of the Board of Governors of JewishGen.org.
Franklin has also served on the boards of the American Alliance of Museums and ICOM-US. She is a Founder and Jury President of the Obermayer German Jewish History Awards and serves on the board of the National Association of Retired Reform Rabbis.