The Hunt for the Red Munchkin, and more in the Salomons-Fox Collection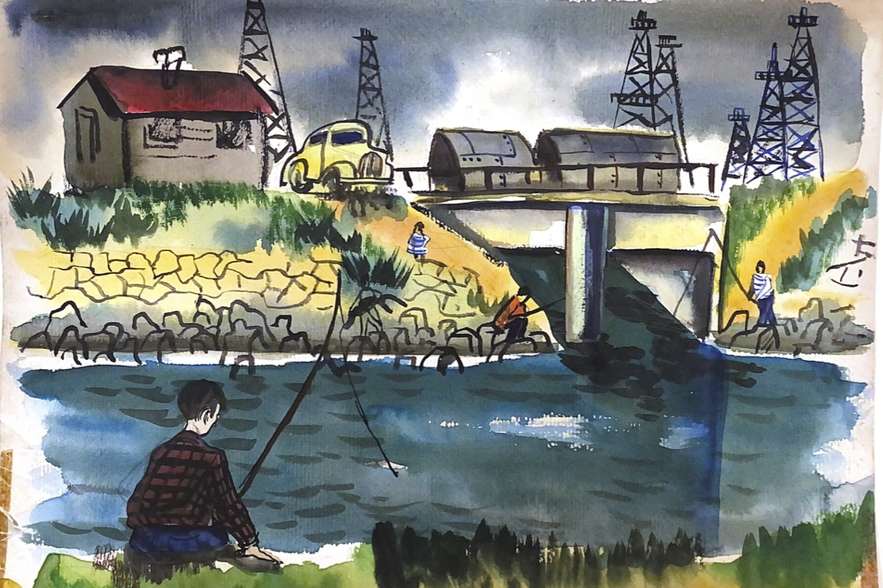 Author

Date

Mon, Sep 19, 2022
The famous banking family with roots in Bavaria was the focus of a recent visit to Germany and came up during a family history program about using US college records for genealogy research.
The Fox family of Vienna (originally the Fuks family of Lodz, Poland) and the Salomons family of Germany (with earlier generations from Amsterdam and Spain) were united with the marriage of the artist Dave Fox and Senta Salomons in Los Angeles in 1943. Their papers at LBI document the lives of a refugee couple and many other branches of their extended families as well.
Born in 1920, Dave Fox was fascinated by the artistic milieu of an earlier generation in his native Vienna – especially Vienna Seccession artists like Gustav Klimt and Egon Schiele. His parents, Abraham and Regina (Ryfka, née Gerlich) Fuks owned a small grocery store. After the Anschluss in 1938, Dave and his brother Jakob would hide in the Augarten park to escape the harassment of the Nazi-sympathizing youths of the neighborhood, some of whom had previously been friends. Later that year Dave Fox fled Vienna with a Jewish friend. He made his way via Belgium to New York, and eventually, Los Angeles, where his younger brother lived and worked as a child actor (see inset, this page). He found a job as a sheet metal worker and was later drafted to serve in the U.S. Army's occupation forces in Asia.
Following his military service, Dave Fox studied art at the Bistrim School of Fine Arts and the Jepson Institute, then found work at an electrical engineering company. In 1977 he earned a Master's degree in fine arts from the California State University, Fullerton. Eventually, he retired from his engineering work to focus on his art. Over the next three decades his work appeared in many group and solo exhibitions. In 2009, a selection of his works was featured at an exhibit at the Aktionsradius Wien in the exhibition, Vom Augarten nach Los Angeles.
Samuel and Lina Kahn were the maternal grandparents of Dave Fox's future wife, Senta (née Salomons) and married in 1898. They lived in Dortmund, Germany, and had four daughters: twin sisters Bertha and Frida, Trude, and Charlotte. Bertha married Alex Salomons in 1920 and was the mother of Senta Salomons and her brother Rudolf. Alex and Bertha Salomons owned a clothing store in the same building in which Samuel Kahn had a shoe store; in 1940 Bertha and Alex came to the United States, having previously sent their son there in a HIAS (Hebrew Immigrant Aid Society) transport four years earlier. Samuel Kahn passed away in 1924. His wife, Lina, along with her brother Isaac Stern, tried unsuccessfully to follow their four daughters in immigrating to the United States via several Central and South American countries and perished in the Holocaust.
After completing studies in domestic sciences in Dortmund, Bertha's sister, Frida Kahn moved to Berlin, where she attended the Soziale Frauenschule (Women's School for Social Work) headed by Alice Salomon. She continued her studies at the Niederrheinische Frauenakademie (Lower Rhine Women's Academy) in Düsseldorf and became a registered social worker. She later became the Acting Director of the Jüdischer Frauenbund (League of Jewish Women) in Berlin. She left that position in November 1921, desiring to be closer to her family, and moved to Elberfeld, where she worked as secretary of the Association of German Jewish Employment Services and as a social worker for the Jewish congregation in Elberfeld.
In 1929, Frida married Alfred Steindecker and moved to Hamburg, where she worked with children. In 1939, Frida and Alfred Steindecker came to the United States and settled in Missouri.
About Jackie Gerlich (né Leo Gerlich)
In 1939, Regina (Ryfka) Fuks (née Gerlich) and her husband had finally been reunited with their two eldest sons in the US after escaping Vienna, but the youngest had been missing for years, separated from his parents not by Nazi deportation, but by the lure of show business.
In 1936, the Austrian circus and vaudeville impresario Leo Singer had persuaded Ryfka and Abraham Fuks to allow him to bring their ten-year-old son Leo abroad for a promising and lucrative career in show-business. Leo, who stood just 2 feet, nine inches tall, was to perform as a "Lilliputian" for the troop "Singer's Midgets" in the US.
Once he had spirited the youth out of Austria using an older brother's name and papers, however, Singer's communication with the family gradually slowed, and the promised payments never materialized, according to correspondence by the Fuks' American attorney in the LBI archives. Apparently, Singer told the frantic parents that the boy was not working because he was too young.
In fact, his star had risen considerably. In the US, Regina recognized her lost son in the Bing Crosby musical East Side of Heaven, in Esquire magazine, and even as a member of the Lollipop Guild in the MGM production of The Wizard of Oz, credited as Jackie Gerlich (a name based on his eldest brother Jacob's first name and his mother's maiden name). The family was apparently soon reunited in Los Angeles, although, as Dave Fox notes in an oral history interview, his brother spent most of his time on the road with the Ringling Bros. and Barnum & Bailey Circus.
From LBI News 114.