Alliance Book Corporation
Henry G. Koppell and Fritz H. Landshoff founded the Alliance Book Corp. (ABC) on August, 15, 1938. Koppell had fled to Palestine after the Machtergreifung in 1933 and arrived in the United States in 1936. Landshoff represented three exile publishing houses - Querido, de Lange, and Bermann-Fischer - who wanted to develop an overseas market in the United States.
The ABC had a purchase commitment to buy 100 to 250 publications from the three exile publishing houses per annum. Furthermore, the ABC had independent goals, such as the publication of German-speaking émigré authors in English translations. By 1940, the cooperation with other exile publishers came to an end due to a lack of purchasers and to the escalation of the war in Europe. As a result, the ABC published only English-language books after the summer of 1940.
In 1942, the Ziff-Davis Verlag bought the ABC.
See also: Bermann-Fischer Verlag, Enoch Publishing Co., L. B. Fischer Publishing Corp. and Querido Verlag
Resources
Hansen, Thomas S. Classic Book Jackets: The Design Legacy of George Salter. New York: Princeton Architectural Press, 2005.
Kesten, Hermann, and Franz Schoenberner. Briefwechsel im Exil 1933-1945. Göttingen: Wallstein Verlag, 2008.
Krohn, Claus-Dieter. Exilforschung: Ein internationales Jahrbuch, Volume 18. München: Edition Text+Kritik, 2000.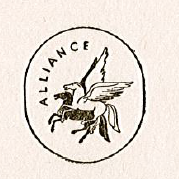 Location: New York
Period: 1938-1942
Publisher(s): Henry G. Koppell (October 20, 1895, Berlin - December 4, 1964, New York); Fritz H. Landshoff (July 29, 1901, Berlin - March 30, 1988, Haarlem/NL)
Author(s): Irmgard Litten, Martin Gumpert, Jan Valtin, Hermann Rauschning, Richard Julius Herman Krebs
Number of Titles Published: unknown