Rare Finds at Constance Book Fair Enrich LBI Library Collection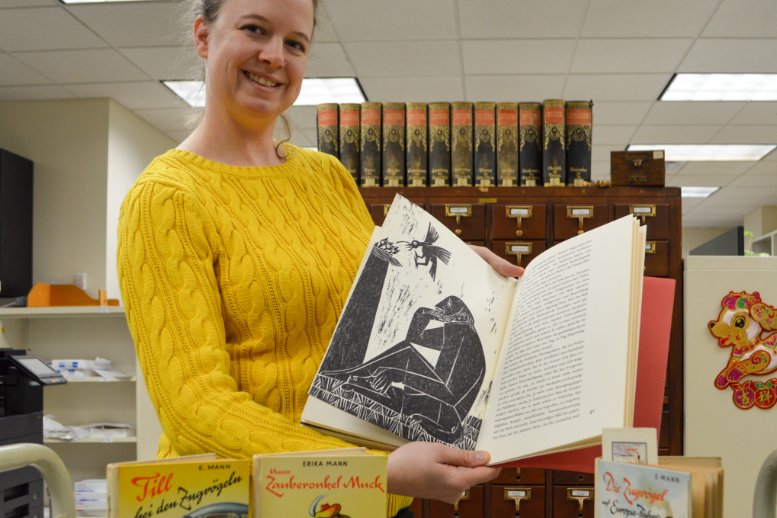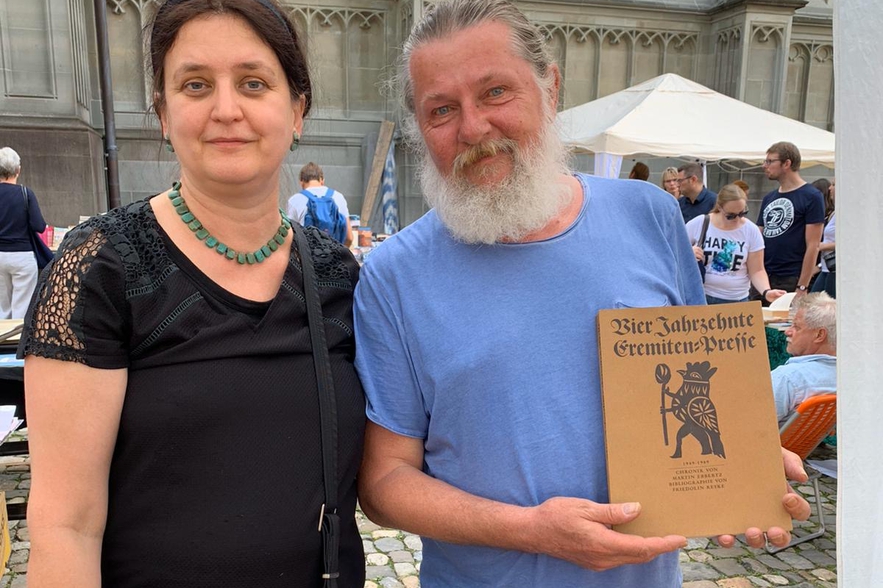 Author

Date

Thu, Feb 27, 2020
Renate Evers, Director of Collections at LBI, took the opportunity to visit the 18th Constance Book Fair on her way to the Annual Conference of the Association of Judaica Collections. The Constance Book Fair has developed into the largest open-air book market on Lake Constance, where a large number of antiquarian dealers and collectors offer their treasures. There she met collector and bibliophile Jan Kowalczyk, from whom she acquired several children's books by Erika Mann for the library collection of the Leo Baeck Institute.
After her return, Jan Kowalczyk surprised the Leo Baeck Institute with a donation of two rare books by German-Jewish authors from his extensive collection of the Eremitenpresse, a bibliophile-oriented publishing house for illustrated books. The Eremitenpresse was founded in 1949 by the poet-printer Victor Otto Stomps and published many then unknown and avant-garde authors and titles until 2010. The books were often designed by visual artists and usually printed in very small, numbered editions. Many authors and artists who were discovered and published by Victor Otto Stomps and the Eremitenpresse achieved great literary importance. Its editions of works by authors such as Christa Reinig, Gabriele Wohmann, Ingrid Bachér and Ernst Jandl quickly became collectors' items.
Hilde Domin (1909–2006) is the pseudonym of Hilde Palm (née Löwenstein), a German-Jewish poet and writer, and a close friend of Nelly Sachs. Originally from Cologne, she moved to Italy in 1932 with her friend (and future husband) Erwin Walter Palm, who was a writer and student of archaeology. She received a doctorate in political science in Florence in 1935. In 1939 the couple went to England and then to the only country to unconditionally welcome them: The Dominican Republic, where they emigrated in 1940 and lived for 14 years. Hilde began to write poetry and prose in Santo Domingo, adopting the pseudonym Hilde Domin in gratitude to the city which offered her refuge. Some years after the end of World War II, in 1954, she and her husband (whose family had been murdered by the Nazis) returned to Germany after 22 years in exile. For another seven years she traveled back and forth between Spain and Germany. Domin's estate is preserved at the German Literature Archive in Marbach.
Carl Sternheim, (1878–1942) was a German-Jewish dramatist best known for his satiric plays about the bourgeoisie of the Wilhelmine era. Sternheim, the son of a Jewish banker, grew up in Berlin. He studied philosophy, psychology, and law at the Universities of Munich, Göttingen, Leipzig, and Berlin and performed his military service in a cavalry regiment. His family's money and that of his first two wives left him free to write, and he traveled most of his life. In 1915 Sternheim received the Theodor Fontane Prize for the three novellas Busekow, Napoleon, and Schuhlin. He passed on the money associated with the award to Franz Kafka, who was still largely unknown at the time.
Books published by Eremitenpresse in the LBI Library: