Teaching the Holocaust with Archives—The 1938Projekt as Pedagogy
Public school teachers workshop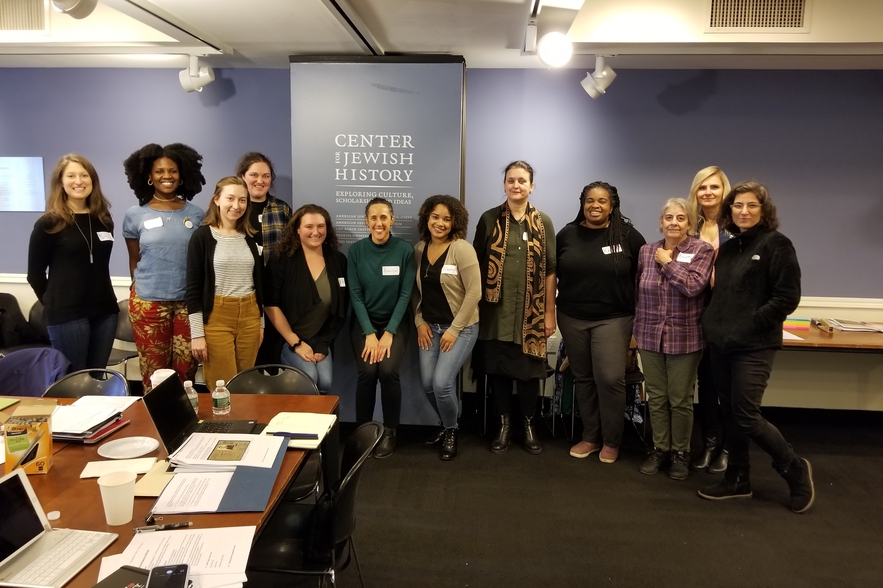 Author

Date

Sun, Oct 11, 2020
What motivates people to act heroically for others? What political messages serve to dehumanize immigrants and minorities? How does growing up in a time of chaos affect resilience? How did Jewish communities use information exchange as a form of resistance in the late 1930s? Why did governments, institutions and individuals allow the Holocaust to happen? How can we build a bridge from history to the present?
This is a small selection of questions that a group of New York educators recently used as starting points to develop teaching units for middle and high schools based on LBI's 1938Projekt. The online history project showed the personal experiences of Jews in Germany and Austria during the pivotal year 1938 through original documents from the collections of LBI and partner institutions.
During two workshops in early 2020, a group of New York K–12 educators, led by pedagogical consultants Rebecca Krucoff & Natalie Milbrodt, along with LBI Project Manager Magdalena M. Wrobel and myself as Director of Collections, developed strategies to engage students in historical inquiry and analysis using the 365 original documents featured in the project. The workshops, sponsored by the METRO New York Library Council as part of their pilot project "User Engagement with Digital Collections," resulted in eleven ready-to-use lesson plans that are published on the LBI website.
The lesson plans introduce students to using digital archival source material and historical research methodologies which will deepen their understanding of the past and allow them to relate it to contemporary discourses and events. Teachers also explored LBI's rich digital resources beyond the 1938Projekt as additional sources for educational purposes.
The LBI was able to observe how educators discover, evaluate, and use original source material to teach K–12 students, a group that is not a traditional user group of our holdings. This will have a direct influence on how the Institute will index and catalog new collections to make them more easily discoverable for educators. The main insight gained was that teachers and students need help identifying single documents that tell an engaging story on their own. That presents a curatorial and bibliographic challenge given that archival documents by nature tend to demand interpretation based on the context of a larger collection or family history.
The fact that most of the documents in the collections of the LBI are in German is another barrier for educators and students outside Germany and Austria. However, the workshop participants learned to search for the many English-language materials in the 1938Projekt and LBI collections—especially memoirs which were written by survivors for their families after the Holocaust, and also some of the correspondence between families who emigrated to different countries.
What the teachers found most surprising was that some documents tell a powerful story on their own despite the language barrier. Among the items that teachers felt transcended language were passports stamped with the letter "J", posters depicting the insignia used in concentration camps and prisons to differentiate different categories of inmates, and, of course, photos, drawings, forms and stamps.
In their report, the curriculum-development consultants Krucoff & Milbrodt described an ideal of collaboration between library and archive professionals and educators:
"A key takeaway was that navigating through multiple layers of a curated digital archives site, into online finding aids and then to individual artifacts, is too complicated for middle and high school students. We decided to start every lesson with the 1938Projekt website, but then offer a primary source set of selected artifacts, pulled specifically for each lesson. We will also develop a general-purpose primary source set that will contain artifacts especially dense with details.
We also learned that when an archivist and an educator work together to prepare a lesson plan, the archivist's knowledge of her collection content is extremely valuable. The time spent learning all the context for the artifacts they have processed does not need to be duplicated by the educator who is trying to find good examples to use in the lesson. It's very helpful for the archivist to share highlights of the collections to inspire a concept for the lesson plan, and then for the educator to give the archivist a set of criteria needed for the individual artifacts or people who will be featured in the lesson plan. This back and forth is essential for time management and for being sure to include the strongest artifacts that tell the most meaningful stories from the collections."
—Krucoff & Milbrodt, Report on METRO Workshop