Claims Conference Funds Processing of Records of American Federation of Jews from Central Europe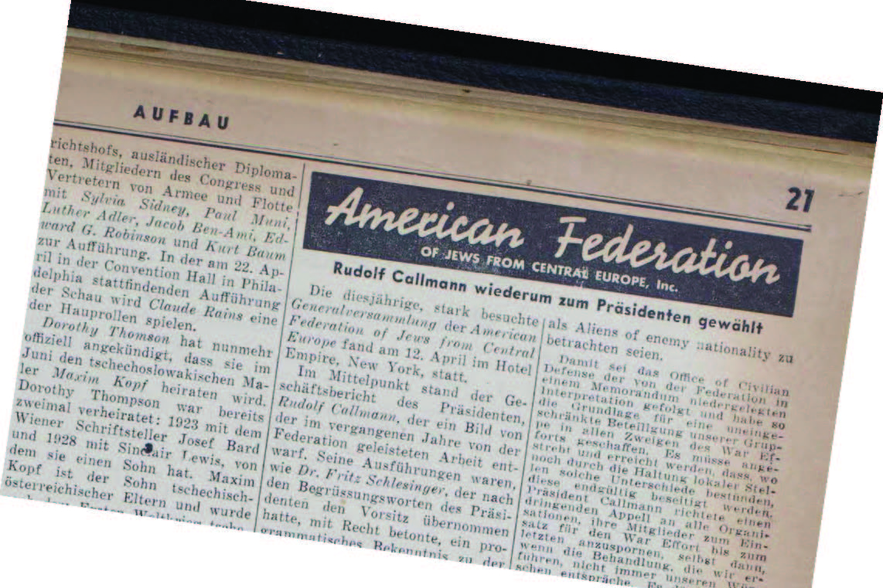 The Federation was an umbrella organization for dozens of smaller groups of Jewish refugees from the Nazis. Thanks to this grant, researchers will soon have access to meeting transcripts and the correspondence of the Federation's board and executive council, including thousands of restitution cases. The collection also includes the papers of the Federation's offshoot, the Research Foundation for Jewish Immigration, which carried out expansive biographical and oral history projects.
The American Federation of Jews from Central Europe was founded in New York in 1939 by the German-Jewish Club as the central representative agency of over thirty national and local organizations of victims of National Socialism from Central Europe. Its purpose was to safeguard the rights and further the interests of the refugees, as well as to sponsor social welfare programs and cultural activities. Beginning in 1942, the Federation laid plans for seeking reparations after the war.
In 1945, the Federation founded the Council of Jews from Germany in cooperation with the Association of Jewish Refugees in Great Britain and the Irgun Olej Merkas Europa in Mandatory Palestine. After 1948, the Federation dealt primarily with questions of restitution, but it also engaged in cultural support for German-Jewish immigrants in the US, foremost through cooperation with the Leo Baeck Institute and the Research Foundation for Jewish Immigration.
In November of 2021, the papers of the American Federation and the Research Foundation were shipped in 134 boxes to the LBI in New York, supported by funds from Jewish Philanthropic Fund. CJH archivists Rachel Harrison and Sarah Glover started processing the collection in January 2022.
From LBI News 113