A Conversation on Jewish Identity With Future Leaders of German Jewry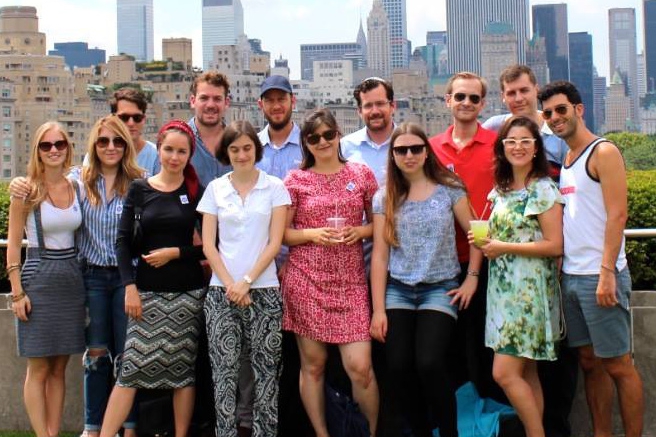 Author

Date

Thu, Oct 22, 2015
A group of 14 Jewish students from Germany will spend two days at the Leo Baeck Institute in late October. The college and graduate level students are supported by the Ernst Ludwig Ehrlich Studienwerk (ELES), a scholarship program funded by the German Federal Ministry for Education and Research. Each year, ELES selects 80 students from throughout Germany and provides them with scholarships and academic support. ELES runs seminars throughout the year in Germany and during trips to Israel and the US.
ELES students are the future leaders of German Jewry. As such, they represent a cross-section of the current German Jewish student population. A great majority of the students were born in the former Soviet Union or have parents who were born there. The remainder is split evenly between Israelis who currently live in Germany and the small post-war Jewish community. The undergraduate students are studying for a wide variety of professions. ELES also serves graduate students in the field of Jewish Studies who may or may not be Jewish.
The goal of the 10-day seminar in the US is to introduce the students to new concepts about Jewish identity based on the extraordinary diversity of Jewish life in the US. When the students come to the Leo Baeck Institute for two days, they will also get an opportunity to learn about Jewish life in Germany before 1933. We look forward to discussing the parallels and differences between Jewish life in Germany a century ago and today, focusing on issues of migration, prejudice, assimilation, and religious practice. Given the Eastern European background of many ELES students, YIVO will also participate in some of the sessions.
In addition to presentations and discussion at LBI, the ELES students will get hands on experience with DigiBaeck, LBI's digital archive. Small groups of students will be given a research assignment to complete using LBI's digital collections. At the end of the session, they will report their findings to the larger group. The intent is to familiarize the students with DigiBaeck so that they can use it for professional or personal research in the future.
LBI and ELES are exploring other ways to work together in the coming year. The two days at LBI will be evaluated and the results will be used to develop curricular modules for use with ELES students during the seminars held throughout the year in Germany. Teaching German-Jewish history to tomorrow's German-Jewish leaders is clearly one way to fulfill the LBI mission to preserve and promote a precious history that was nearly lost.