Family Matters: In Chicago, Generations Gather for Intimate Look at Family Histories Preserved in LBI Archives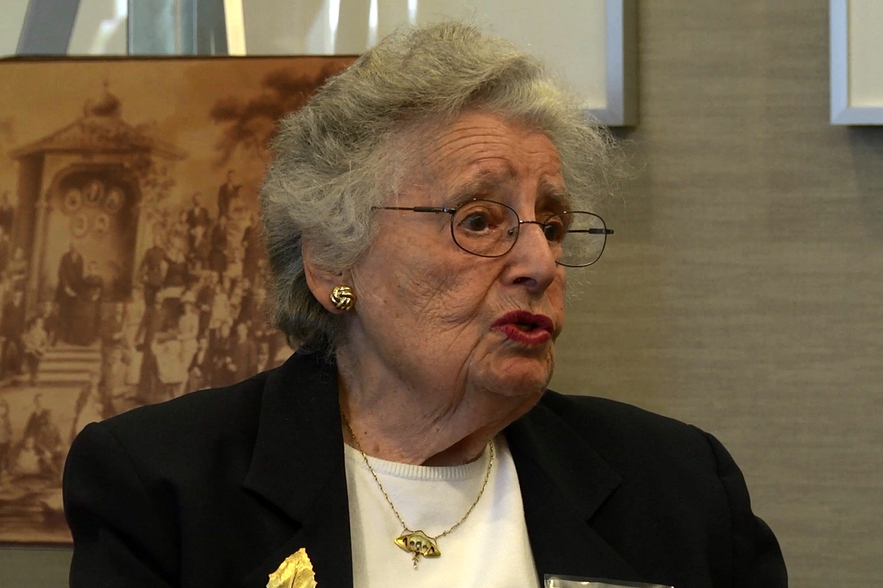 Author

Date

Tue, Mar 24, 2015
On Sunday, October 26, 2014, LBI invited genealogists, friends, and family of Chicago-area residents Walter Nathan and Marianne Dreyfus for an intimate discussion of the two long- time LBI supporters' family histories. The event was a pilot for a new format of LBI programming called "Family Matters," which will connect individual and family narratives to the historical context of Jewish life in Germany before 1933, during the Holocaust, and after World War II.
In downtown Chicago, Director of Research Frank Mecklenburg interviewed Marianne Dreyfus, who is the granddaughter of Leo Baeck. Dreyfus spoke about her youth in Berlin, where her parents tried to shield her from the worsening situation. She recalled that her expulsion from school due to her religion was the moment she realized that the situation in Germany was no longer safe. In January of 1939, her parents sent her on a Kindertransport to England, where they joined her in 1939. Dreyfus also spoke passionately about her paternal grandfather, Leo Berlak, who was sent from Berlin to Theresienstadt in 1941. In 1943, her other grandfather, Leo Baeck, joined Leo Berlak in Theresienstadt. One of Dreyfus's most treasured possessions is a letter from her paternal grandfather, Leo Berlak, written one month before his death in April of 1943. The letter was addressed to Dreyfus and focused on the Berlak family lineage and history in an effort to ensure that the family history would not be forgotten. Today, a large portion of the Berlak Family papers are preserved in the Leo Baeck Collection, donated by Dreyfus to the Archive of Leo Baeck Institute.
Following in the same vein, genealogist Karen Franklin interviewed Walter Nathan, proud Chicagoan since 1938. Originally from Frankfurt am Main, Nathan discussed his childhood in Germany and his father and uncle's innovative shoe business "Ada Ada." He explained how even as a child, he experienced Germany becoming a progressively difficult environment for Jews: "Every month the screws were tightened a little more, made it more difficult to make a living for Jews." He explains that in 1935, his parents sent him away to school in Belgium, with a one-way White Star line boat ticket to New York that was to be used when the situation in Europe became unbearable for Jews. Nathan says that day came in March 1938, when he received a telegram from his mother telling him to quit school and leave Belgium immediately.
Dreyfus and Nathan provided a glimpse into personal stories of Jewish life in pre-War Germany, and the steps that their families took to ensure their safety and prosperity. Histories such as Marianne Dreyfus's and Walter Nathan's speak to the larger story of the German-Jewish experience that countless individuals experienced. Their lives in Germany still resonate with them and have helped to create the families and lives they enjoy today in America. The Leo Baeck Institute is a haven for the materials that document the narrative of their lives, enabling their stories to be told for many future generations to come.