Germany's Top Justice Official Tackles His Ministry's Past at LBI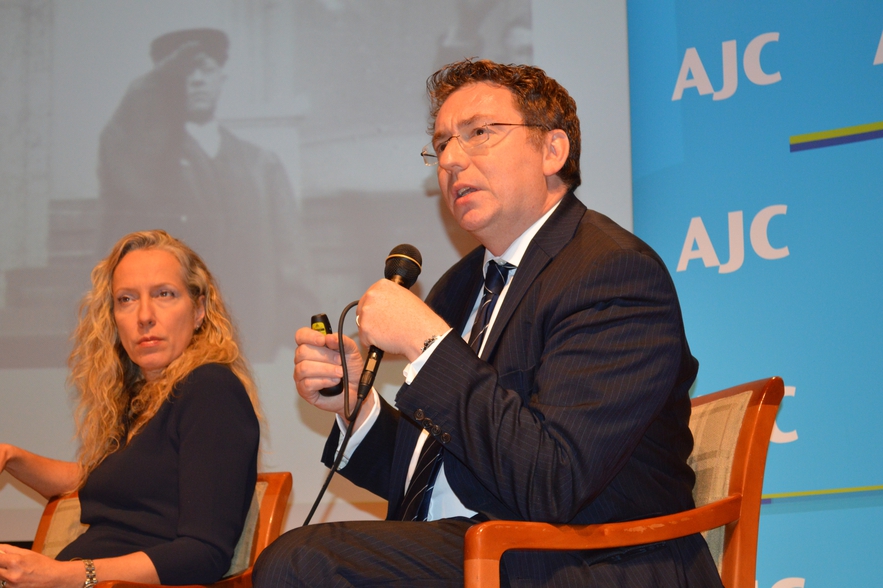 Author

Date

Thu, Mar 12, 2015
On November 19, 2014, in conjunction with AJC, LBI had the honor to host a program presenting a project of the German Justice Ministry: "The Rosenburg Files: The German Federal Ministry of Justice and its Nazi Past." This ongoing study by the Ministry's Independent Academic Commission for the Critical Study of the National Socialist Past (ICC) looks at the Nazi influence on post-war German reconstruction and the how the Federal Ministry grappled with its own National-Socialist history.
In the Center for Jewish History's packed Forchheimer Auditorium, German Federal Justice Minister Heiko Maas addressed the crowd and spoke about the high numbers of Nazi Party members and sympathizers that were employed in the post-1949 Ministry of Justice in Germany, which was tasked with interpreting and enforcing the law. Onstage, Rebecca Wittmann (Professor of History at the University of Toronto) joined the ICC co-chairs, Christoph Safferling (Professor of Criminal Law, University of Marburg) and Manfred Görtemaker (Professor of Contemporary History, University of Potsdam) for a panel discussion following the Justice Minister's address. David Marwell (Director of the Museum of Jewish Heritage, New York) moderated the discussion.
The ICC's research was made possible by unfettered access to the files housed in the basement of the Ministry of Justice. Researchers examined over 250 cases of individuals with connections to the Nazi Party, ranging from former party functionaries to sympathizers who offered tacit approval of Nazi policies. According to the panelists, the legal profession in post-war Germany took steps that "normalized Nazi crimes" and shielded its members from culpability for their previous actions.
Safferling, Görtemaker and Wittmann tried to unpack the tangled history of the Ministry, by "unscrambl[ing] the shades of grey," says Safferling.
In addition to the public address, Maas met with local Jewish leaders and lawyers to discuss the study and answer their questions. Later, he presented LBI International President Michael Brenner (University of Munich and American University) with the Order of Merit of the Federal Republic of Germany for his work as a preeminent historian of German-Jewish life. The entire program was a great success, shedding light on an oft-overlooked issue in post-war Germany and strengthening the international ties between the Jewish community and Germany.