"We have wandered together a long, long way"—The Hans and Eleonore Jonas Collection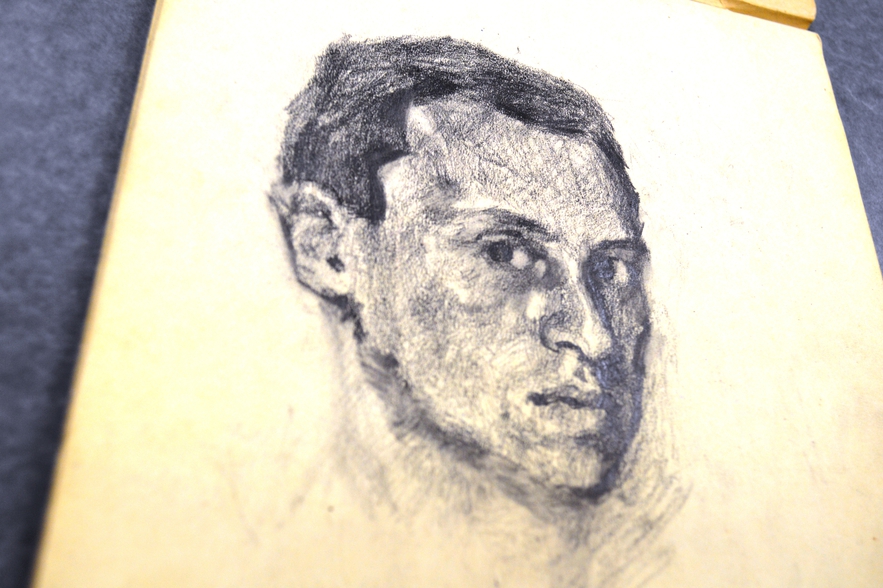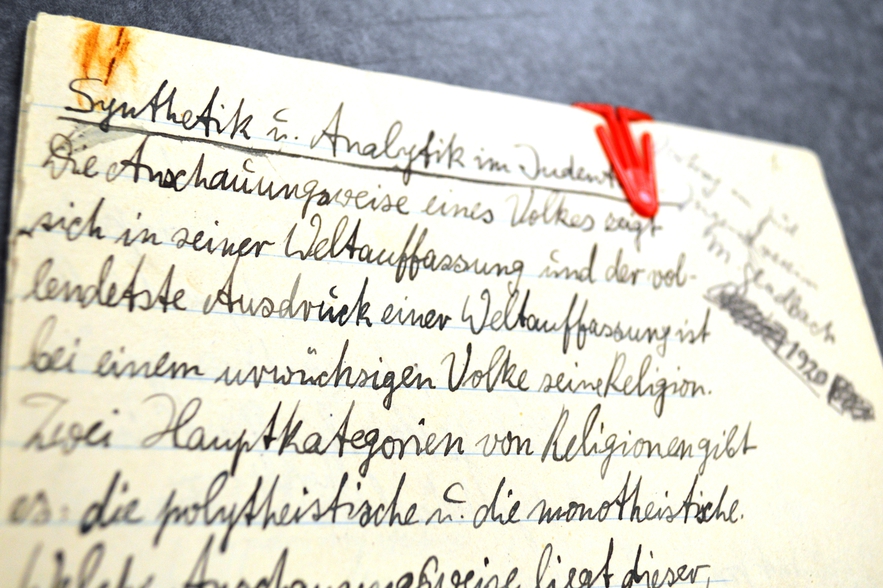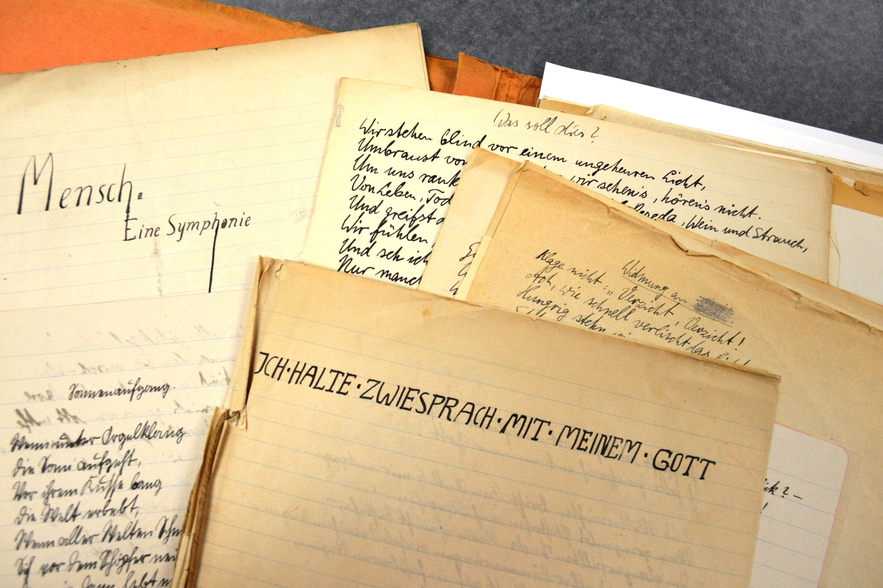 Author

Date

Mon, Feb 22, 2016
In summer 2016, Ayalah Jonas, the daughter of the philosopher Hans Jonas, donated part of her parents' library and personal papers to the LBI. The archival collection contains unpublished manuscripts, poems, and drawings by the philosopher Hans Jonas (1903–1993) as well as documents related to the history of the family and a circle of friends including Hannah Arendt.
This unique collection offers glimpses into the philosophical preoccupations of a teenaged Hans Jonas and the remarkable language he used to explore them. With a stormy emotional urgency, Jonas sketched portraits and wrote poems ("Fever Song", "To God", "The Prayer of Amos"), but he also showed an analytical side that prefigured his future scholarly work, as in the lecture "Synthesis and Analysis in Judaism", which he delivered to the Jewish youth group in his native Mönchengladbach in 1920 at the age of 17.
The papers, fully digitized and available online since September, suggest the tremendous creative drive that made Jonas' 89 years so productive. After studying philosophy, theology, Jewish studies, and art history in Freiburg, Heidelberg, Berlin and Marburg, he earned his doctorate under Martin Heidegger with a dissertation on Gnosticism.
Jonas' academic career was interrupted by the rise of the National Socialists in 1933. His mentor, Heidegger, joined the Nazi party, and Jonas, a committed Zionist, fl ed for England and then Palestine. He volunteered for the British Army and fought in Italy with the famed "Jewish Brigade", composed of Jewish soldiers from Mandatory Palestine. After serving in the Israeli Army during the Arab-Israeli War of 1948, he returned to academic life with professorships in Canada before joining numerous fellow émigrés on the faculty of The New School in New York.
Further publications on Gnosticism were followed by work on the relationship between biology and philosophy. Books like The Phenomenon of Life (1966) have informed bioethical debates for half a century now, despite the fact that they predate the technologies at the heart of many of today's thorniest questions. In 1979, Jonas published his most famous work, The Imperative of Responsibility: In Search of Ethics for the Technological Age, which had a far-reaching influence on the genesis and development of environmental movements.
In addition to Jonas' youthful writings, the collection at the LBI contains materials from his scholarly career, including notes and drafts for his books, especially related to Gnosticism. Rather than Jonas' scholarly achievements, however, it is the marriage between Eleonore Weiner and Hans Jonas that is at the heart of this collection. Three of the collection's six series are focused on the couple and their children, John, Ayalah, and Gabrielle, featuring photographs, correspondence, family trees, newspaper clippings, and personal memoirs.
In one such memoir, Eleonore, recalls meeting and falling in love with Hans in Jerusalem:
"Here, he now sat opposite me in my room. And, suddenly, in the middle of the meal, he held an olive high, and started what seemed to me a hymn to the olive tree. (…) I have not his power of speech, so I cannot reproduce adequately his words, but I was entranced, and stayed entranced, for the next fiftyyears. Even now, seven years after my husband's death, the spell is not quite broken."
Hans and Eleonore's marriage was one that included plenty of room for numerous friendships. Among the couple's closest friends was Hannah Arendt, whom Hans had met while studying with Heidegger in Marburg. Eleonore recalled her relationship with Arendt:
"I was, of course, slightly intimidated by Hannah's powerful
intellect, but she was very kind to me. To Hans she said, 'Oh
Hans, you are so lucky to find Lore.' Of course, I was pleased
of that. (…) She had refused to emigrate with him to Palestine,
where he went in 1935. It was a great hurt and loss to Hans,
and I had, when we first met, to fight against her shadow."
When Arendt died suddenly of a heart attack in 1975, Eleonore and Hans rushed to her apartment on Riverside Drive in New York. Eleonore remembered:
"We stood around, not quite comprehending what had
happened. Hannah was only 69 years old. The police sealed
her apartment and we felt the seal also on an important and
rich part of our lives."
Hans Jonas delivered a eulogy at Arendt's funeral on December 8, 1975 in New York:
"It is difficult to picture, for the remainder of my days, a world
without Hannah Arendt. Her presence in it made a difference
which one experienced ever anew."
In May 1988, Hans wrote a poem with the Title "Vows". His daughter Ayalah received a copy with the handwritten note: "As always, from Hans to Lore, but this one to be shared with our children."
"We have wandered together a long, long way.
I am nearing the end and count my days.
And look back on my course with its crests and its troughs
Through waters uncharted, but beaconed by vows.
To cherish and love you, as I vowed to do,
Never needed vow's bidding, only you being you.
Who turned vow into wooing, a knight-errant's quest,
Each fulfillment the keener for longing's unrest."
—Strophes 1 and 2 from "Vows" by Hans Jonas, 1988
In addition to the body of unpublished and private writings now included in the LBI archives, Ayalah Jonas has donated about 100 books from her parents' personal library. Many of the books bear inscriptions from Hans Jonas marking them as gifts to his daughter. Ten of the books were gifts to Hans and Eleonore from Hannah Arendt and bear corresponding inscriptions. Many of the books include handwritten notes from Hans Jonas in the margins or on slips of paper inserted between the pages.
Ayalah Jonas also made a financial gift to the Institute that will help preserve her parents' collection as well as support the acquisition of new books that reflect her father's interests. These books will be identified with an Ex Libris mark dedicated to the memory of Hans and Eleonore.
Hans Jonas' academic papers are held by the Philosophical Archive at the University of Konstanz, which is also working on a critical edition of his complete works. Now, the Hans and Eleonore Jonas Collection at the LBI will illuminate the family and social context in which his scholarly work arose.