Stuart Eizenstat on Jewish Continuity in the 21st Century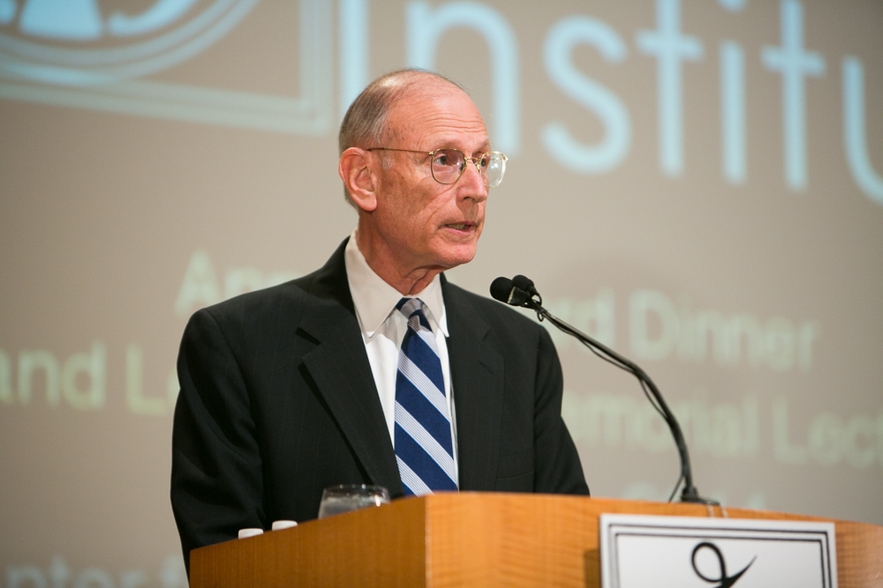 Author

Date

Wed, Jan 15, 2014
Before accepting the Leo Baeck Medal on January 14, 2014, Ambassador Stuart Eizenstat delivered the 56th Leo Baeck Memorial Lecture, in which he addressed how the imperative to honor the victims of the Holocaust informs the challenges facing the current global Jewish community.
In a wide-ranging survey of issues facing Jewish communities today, he addressed topics from assimilation and intermarriage to the impact of globalization on US-Israeli relations. He started, however, by arguing that helping Holocaust survivors, the focus of his public service career for decades, remains an urgent imperative. "It is unacceptable that those who suffered so grievously in their youth should still live in deprivation," said Eizenstat. The veteran negotiator for the US government and Jewish Claims Conference credited the German and Austrian governments in particular for their efforts to compensate survivors.
As head negotiator for the Claims Conference since 2009, Eizenstat said, "I found the reaction of my German counterparts […] inspiring. We are negotiating with men and women, most of whom were not born until after the War, but they continue to feel a devotion to do what they can to support survivors worldwide." He also lauded Vice President Biden's recent proposal at the Centennial of the American Jewish Joint Distribution Committee to launch the first program designed specifically to aid the estimated 120,000 Holocaust survivors in the United States.
Compensating survivors, however, will not be enough, according to Eizenstat. "The second imperative is memory; the last word on the Holocaust must not be money or compensation," he said, citing the International Holocaust Education Task Force and the UN-designated Holocaust Remembrance Day as positive examples. In this regard the US has set a poor example, he argued, noting that only eight states currently mandate Holocaust education in schools. Education is necessary, Eizenstat said, to combat the disturbing trend of rising antisemitism.
He noted his alarm in particular at the findings of the European Union's 2013 survey of 6,000 Jews in nine EU member states. The inquiry by the Fundamental Rights Agency found that one-third of respondents reported experiencing verbal harassment over the past five years, and an equally large percentage said they have considered emigrating due to antisemitism.
Related to the problem of antisemitism, Eizenstat said, is a "subtle, insidious de-legitimization campaign to deny the Jewish people's right to self-determination in a sovereign nation-state of its own in its historical homeland." He singled out the "Boycott, Divestment, and Sanctions" (BDS) campaign targeted at Israel in particular. Although the base of this movement's support had long been located in Europe, it is now spreading to the United States, as evidenced by the American Studies Association's adoption of a resolution in December 2013 calling on its 5,000 members to boycott Israeli academic institutions. Eizenstat said that this threat must be countered by emphasizing irrefutable facts about Israeli democracy.
At the same time, he warned, "It is important not to label every criticism of Israeli policy, however harsh, as antisemitic or an effort at de-legitimizing Israel, or the defense against real attacks at Israel's legitimacy will lose credibility." In fact, he said, some Israeli policies fuel the flames of the delegitimization campaign. "When leading politicians in Israel publicly urge a unilateral state controlled by Israel over the whole West Bank, or when scores of settlements outposts are erected in violation of Israel's own law, or when new settlements are announced while the Vice President and Secretary of State Kerry are seeking to achieve a peace agreement, combating the delegitimization campaign becomes more difficult." "Peace with the Palestinians is not a gift to them," Eizenstat concluded. "It is an imperative to preserve a majority Jewish democratic state."
After outlining the external challenges faced by the Jewish people, Ambassador Eizenstat described the disengagement of a large segment of the Jewish population from Judaism and Israel as "the greatest threat to Jewish continuity" in the Diaspora. "The American Jewish community, the largest Diaspora community in the world, is like an enterprise with two divisions of roughly equal size. One is vibrant, healthy, engaged in the full range of Jewish religious, cultural, social and political activities, and deeply engaged in Israel […]. The other is near bankruptcy, assimilating, intermarrying, disengaged from any Jewish communal activity and from Israel, and threatening the health of the overall enterprise."
Eizenstat cited the October 2013 Pew Research Center survey of American Jews as evidence of this division. While he characterized some of the study's findings as positive—the survey estimated that 6.7 million Americans identify as Jews, over a million more than suggested by previous studies, and described a flourishing Orthodox Jewish community—Eizenstat characterized a number of trends as alarming. For example, Jews born after 1980 are significantly more likely to say that they are not Jews by religion, intermarriage rates have skyrocketed since 1990, and intermarried couples are much less likely than Jews who marry fellow Jews to raise their children in the Jewish religion.
To reverse this trend, Eizenstat urged that, "The segment of the Jewish community that is most deeply engaged in Jewish life must make it a priority to reach out to the part that is drifting away. He argued that non-Orthodox rabbis should agree to perform intermarriages if couples are willing to raise their children as Jewish and take some religious education before marriage. He also said that efforts should be redoubled to support programs that demonstrably promote Jewish identification such as Taglit-Birthright Israel.
"We must make clear that Judaism remains relevant in an open society, when all Jews will become Jews by choice, even if they are Jews by birth." Eizenstat's remarks made it clear that honoring the memory of the Holocaust is an integral part of that choice.