Understanding through Cooperation: Germany Decorates Carol Kahn Strauss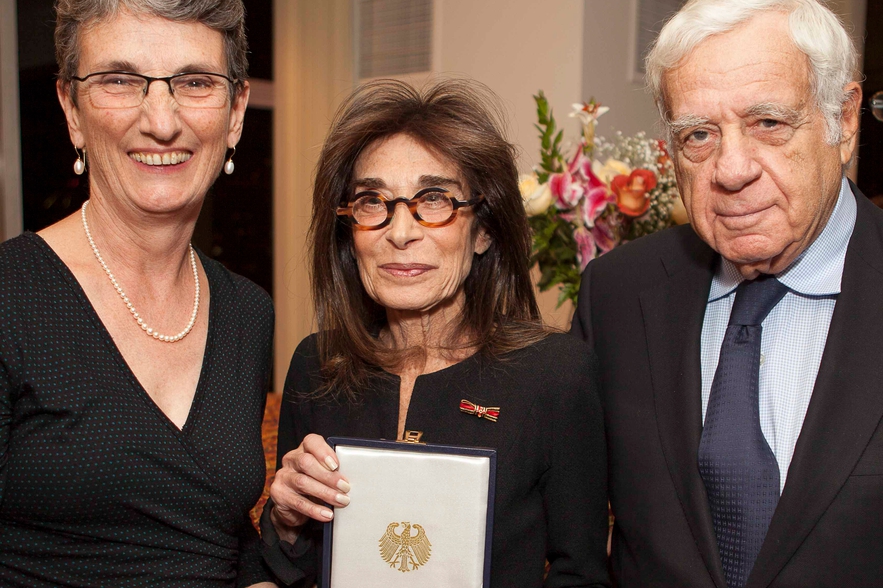 Author

Date

Tue, Mar 24, 2015
On January 20, 2015, LBI International Director Carol Kahn Strauss was presented the Commander´s Cross of the Order of Merit of the Federal Republic of Germany by Consul General Brita Wagener. The decoration was awarded in appreciation of her outstanding accomplishments and commitment to German-American-Jewish relations for more than two decades. It also represents a significant upgrade to the honor Strauss had already received in June, 2005, when then foreign minister Joschka Fischer presented her with the Cross of Merit, First Class in Berlin.
Carol Kahn Strauss was born in New York to a highly respected Jewish family who had come to the United States after fleeing Nazi-Germany. Her father had been the president of the district court in Dortmund when the Nazis expelled him from his post in 1934. After the November pogroms of 1938, he and his family finally left Germany.
In the presence of more than fifty guests, Consul General Brita Wagener said that it would have been understandable if Strauss had turned her back on Germany for the evils that her family had endured. Instead, Wagener said, she decided to make the fostering of the German-Jewish relationship and continuous cooperation with Germany the leitmotiv of her life. During more than 20 years as Executive Director and as International Director of LBI, New York Strauss established an exceptional and unique network in Germany. In these years she nurtured countless contacts with German partners for whom she became the symbol of trustful cooperation in the German-American-Jewish dialogue.
Consul General Wagener also said that thanks to Strauss's dedication and perseverance, a branch office of the LBI opened its doors in Berlin in July 2013 to maintain and deepen relations with scholars, Jewish communities, government and corporate sponsors, and the wider public in Germany. Wagener said that Strauss had opened a new dimension of cooperation with Germany toward a more prominent role for the LBI, by making Germans more aware of the long and illustrious German-Jewish heritage shared until 1933.
In her acceptance speech Strauss reflected upon the words of Federal President Joachim Gauck on the occasion of a dinner to mark the opening of an LBI, New York office in Berlin in May 2014. She agreed with him that the Holocaust is an inherent and indispensable part of our common memory, but that it is also critical to anchor the many other facets of German-Jewish history in the collective memory of the nation again.
Strauss also reflected on her own personal connection to German-Jewish history: "This gift of heritage has been given me, I believe, for a reason, and that is to help preserve it, in America and in Germany. There can be no better validation of my small mission and of the work of LBI than this special recognition."