A Visit to the German Literature Archive in Marbach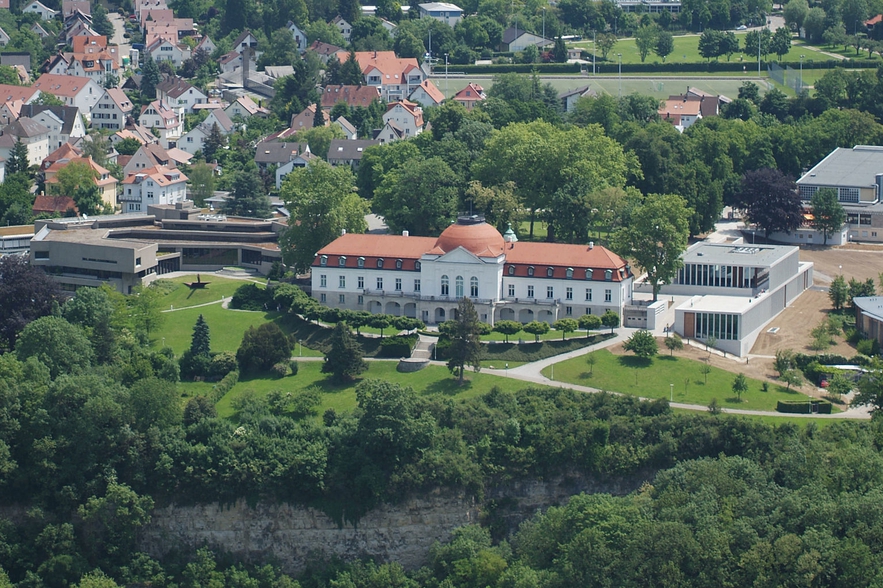 Author

Date

Tue, Oct 3, 2017
This June, I visited the German Literature Archive in Marbach (Deutsches Literaturarchiv Marbach – DLA), where I gave a talk about traces of emigrant libraries in the collections of the LBI and spent a week learning about the activities and holdings of the leading repository of sources related to German-language literature. My colleagues in Marbach and I discovered many parallels between our institutions as well as rich opportunities for future collaboration.
Like the LBI, the German Literature Archive in Marbach was founded in 1955, and we both do the work of collecting, cataloging, and preserving special collections of books, archival materials, art works, and objects. Given the overlap between our areas of focus—German literature and German Jewish history—it is unsurprising that a number of collections in both institutions are related, intertwined, or complementary.
The Marbach archive was founded as an expansion of a 19th-century museum devoted to the classical German poet Schiller and other Swabian writers. Since 1955 special emphasis was placed on collecting the papers of authors who faced persecution, censorship, or exile. The prominent German-Jewish writers and scholars whose literary or scholarly estates are preserved in Marbach include Erich Auerbach, Paul Celan, Alfred Döblin, Hilde Domin, Yvan and Claire Goll, Mascha Kaléko, Siegfried Kracauer, Else Lasker-Schüler, Karl Löwith, Kurt Pinthus, Kurt Tucholsky, and Karl Wolfskehl. In some cases, materials from a single author are divided between the LBI and Marbach; both institutes have partial estates related to Joseph Roth, Nelly Sachs, Stefan Zweig, Richard Beer-Hofmann, Fritz Mauthner, and Erich von Kahler among many others.
The LBI, as well as the wider research community, has also benefited from the DLA's leadership in humanities research coordination. For example, DLA's joint research project "Traces and Treasures of German-Jewish History" with the Rosenzweig Minerva Research Center at the Hebrew University of Jerusalem identified outstanding archival collections of scholars, writers, and intellectuals at the Central Zionist Archives, the National Library of Israel, and LBI Jerusalem. As a result of this effort, several hundred memoirs and archival collections held by LBI Jerusalem were described and added to the catalog of LBI New York at the Center for Jewish History in Manhattan.
In particular, I had many productive and informative discussions with my colleagues in Marbach about their efforts to preserve authors' entire libraries, which provide an insight into their reading habits and the material and literary culture of their times. For example, the poet Karl Wolfskehl (1869–1948) sold his exquisite, 8,800-volume library to the publisher Salman Schocken to finance his emigration to New Zealand in 1937, and the books were transferred to Jerusalem but later scattered. The DLA is now working to reconstruct Wolfskehl's library. Conversations with head librarian Jutta Bendt, research associate Caroline Jessen, and other colleagues about the Wolfskehl library and the 120 other private authors' or collectors' libraries at the DLA provided valuable insights for us at the LBI as we consider ways to preserve complete libraries of German-Jewish émigrés that we have been able to acquire.
I am grateful to the many colleagues at the DLA who took the time to share their expertise and discuss potential collaboration and better integration of resources in our closely related fields. I also thank the Marbach Weimar Wolfenbüttel Research Association, which generously sponsored my visit.